... was as what
Ms Lee Yen Shing
said, a success.
*bulging excited eyes* Yes! It
was
a success!
At 7.05pm, I was asked to start playing the Young Chang Grand Piano. I played and played. Few of them (I only remember Kok How and Sean) asked me this weird question: Are you tired? Teehee, they didn't know I can stick to a grand piano playing like that for more than one hour and yet feel nothing. After all, I was just touching the keyboard and not accenting any key. teehee...
The time finally came (I am still nervous AND excited as I type this) when Cheffrost and Mun Theng took the stage as Emcees.
Walao-eh!
The audience did respond to them! Awesome. (The perasan me says, "Because I told them twice 'you can do it!' "
The highlight was the play "When Love Came Down". I had to play during Scene 2, Scene 6, Scene 7 Act 2, Scene 8, and Finale. I tell you, throughout the whole play, my legs were shaking like nobody's business. I was so darn nervous and excited and fearful of mistakes (Thank God there weren't any mistakes).
I remember Melalyn saying that she felt like crying because she was so
into
her character. Whenever she sang, she could feel the rejection. And to make herself more rejected (for the play, of course),
[Mel looks at Arlyne with jealousy]
Mel: See! I feel so rejected. My shrawl (I dunno should it be spelt this way) is so black and Arlyne's is so shiny...
~ Response: Suit Lin and I laughed ~
Anyway, I was amazed at her performance. She looked very natural, as if nothing happened, when she didn't have a microphone, and her singing was wonderful. After her scene, a generous applause resounded within the hall, and I was so proud of her; she did well. (I am so darn long-winded and repetitive. Haih. Old ady)
-Commercial Break-
Mun Siong actually thought I was 21! OH MY GAWD!
Worse: Johnson thought I was older! OH MY SUPER GAWD!
-We are Back-
Joanne Poh took the stage during Scene 8 and sang the famous "Via Dolorosa". Wonderful voice she has too. I am glad she did well though we hadn't have enough practices. She did well after all.
And I have to comment about this, Victor DID look like Jesus on stage! (Comparing to our cute Jesus during practices. He can make everybody laugh, kay? Dood, if you're reading this, don't feel offended kay? ;p)
The finale, WOAH, hit moment. That's all I could say. You guys should've come. You should've witness this historical moment. You should've been a part of it. Too bad you
chose
to not come. Tahah! Bad me.
Pics for the day (there are more to come, hope I can get it):
The place...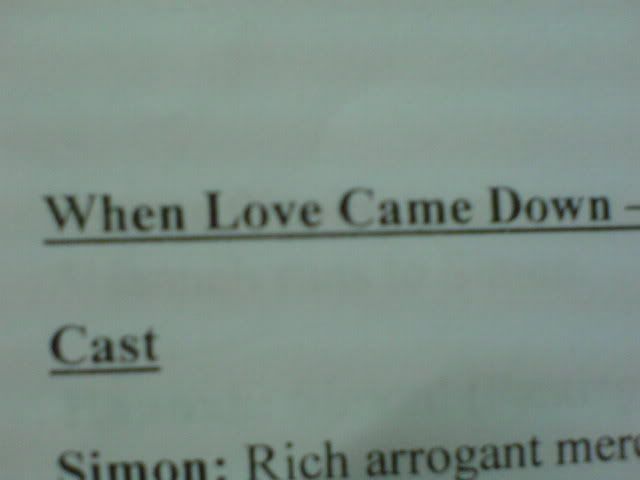 WHEN LOVE CAME DOWN
Directed by
Lee Suit Lin
. Cekap
hor
our friend here?
Simon's great istana. It caught figuratively caught fire and literally got torn down. Haha!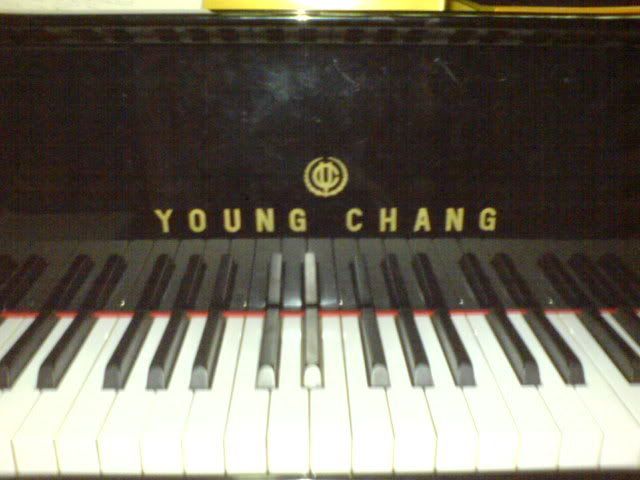 The Grand Piano I played.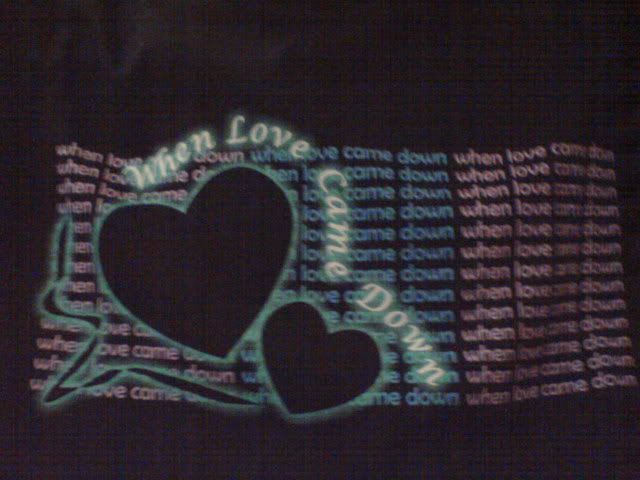 T-Shirt logo.. Took it while wearing it.. so it isn't perfectly nice.. :)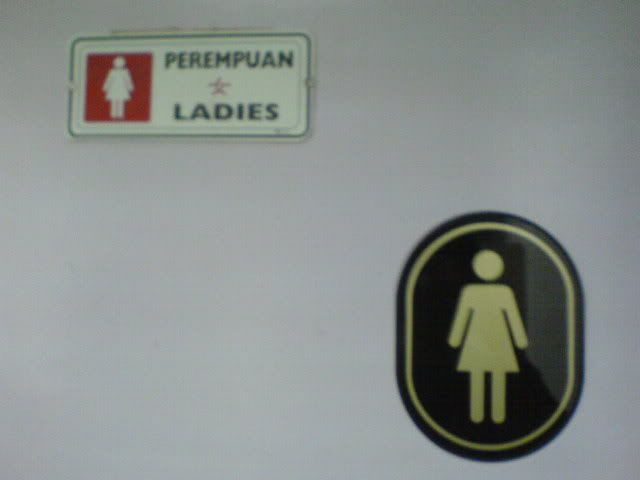 Girl's Toilet (THE MAKE UP ROOM!! OOH!!!)
Pixie: (points at Jon Chu) WHY ARE YOU HERE!?!
Jon: (innocent face) teehee..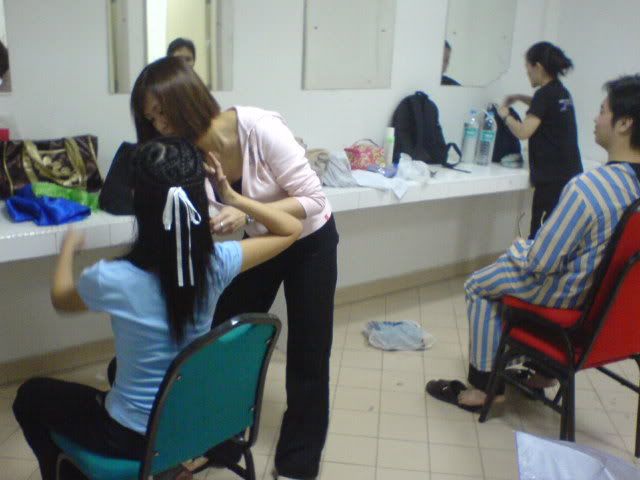 Making Up Process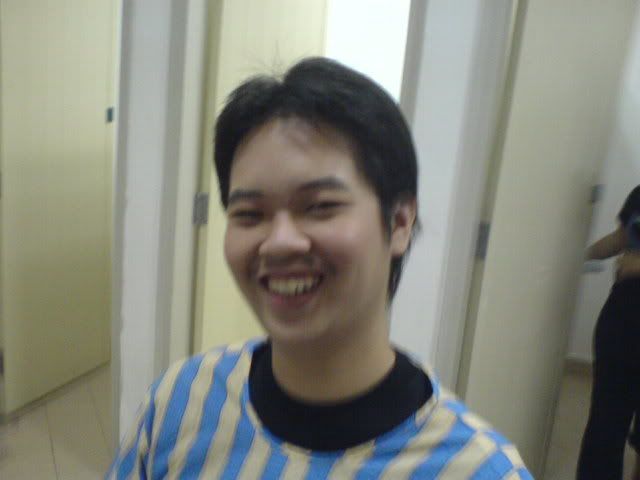 Hugh John - our Simon - our Main Character
Souvenirs
Mun Siong and Suit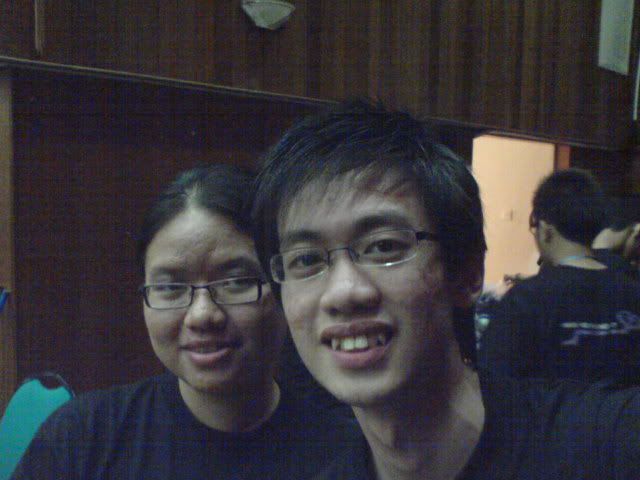 Suit and I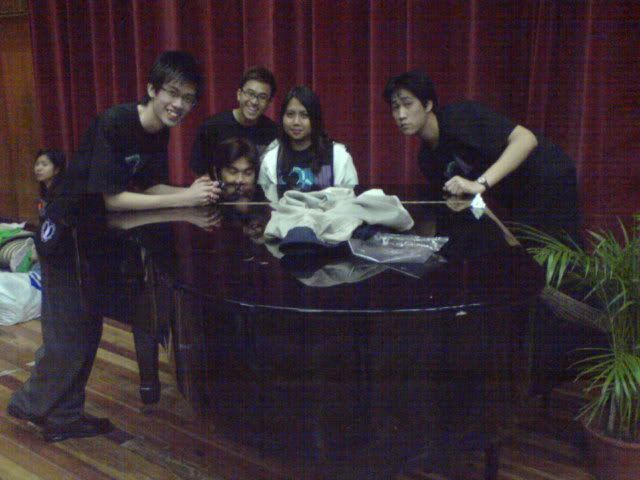 I actually just wanted to pose with the grand piano.. mana tau got these geniuses came and stole my pose.. HAIH...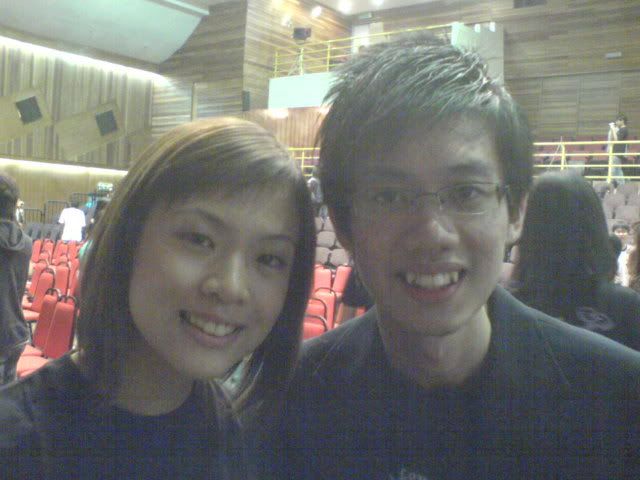 Mel and I
I have many other more pictures.. but they're not with me.. Hope Suit could get them for me asap from the other PKVians. I'd certainly appreciate that a lot.
Well, here goes my short post.. long-winded and not grammatical at all. Haha!
Have fun!
I still miss the event lar!!! Haih!