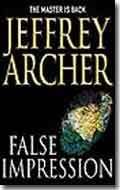 Mom bought me something. I mean some
things
.
Wonder whether will they be good stories, because the current one I'm reading is good (rating, 6.5 out of 10).
If you'll ask me which I'd start reading first, it'll be James Patterson's
2nd Chance
simply because he has a style of writing I couldn't seem to describe. He keeps me turning the pages, continually prompting and hinting me that there'll be a bomb in the next chapter. And yes, there's always. Every chapter he writes has a motto, and they ring throughout the whole chapter. He is never repetitive, or long-winded (like me), though he uses the same phrases again and again; they just build his story to a climax you can't possibly breathe. Scary, huh? I know.