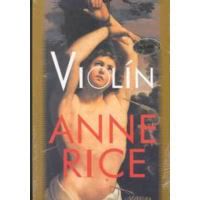 Finally! Yes, finally I've finished this book [Anne Rice - Violin]. The way Rice wrote it is interesting especially the way she described Triana, the main character, her dream and relationship with others. To rate, I'll give this 6 out of 10.

I didn't really like the ending of the story: it was predictable. I wanted something gory, something horrifying. I wanted something that could haunt the readers the way Stefan, the extremely talented ghost, haunted Triana. I expected Rice to describe Triana's selfish desires for acknowledgment and ability. But after all, I think it's okay. This book kept me reading after 200 pages; before that it was quite difficult. I kept yawning while reading, but it was okay, I guess. Anyway, read it if you dare challenge yourself and experience Triana's dreams and emotions.

To put in point form...

What I liked about the story:

Rice's description about Triana's dream.

Rice's depiction about Triana's confusion.
Triana's selfishness.

What I didn't like about the story:
The sudden change of relationship between Triana and her family members
The sudden change of character in Katrinka

The minor horrifying effect of the characters
The ending of the story
Try it if you dare. It wouldn't be so bad after all. But one warning: if you can't follow Triana's emotions, you might be blurred.