I know it is completely absurd and stupid
But I would still want to make a rather stupid shout out.
Because I am, for a sudden, very proud of myself.
You know why?
Because when I keyed in '
Pig Take Egg
' into
Yahoo
Search, this appeared...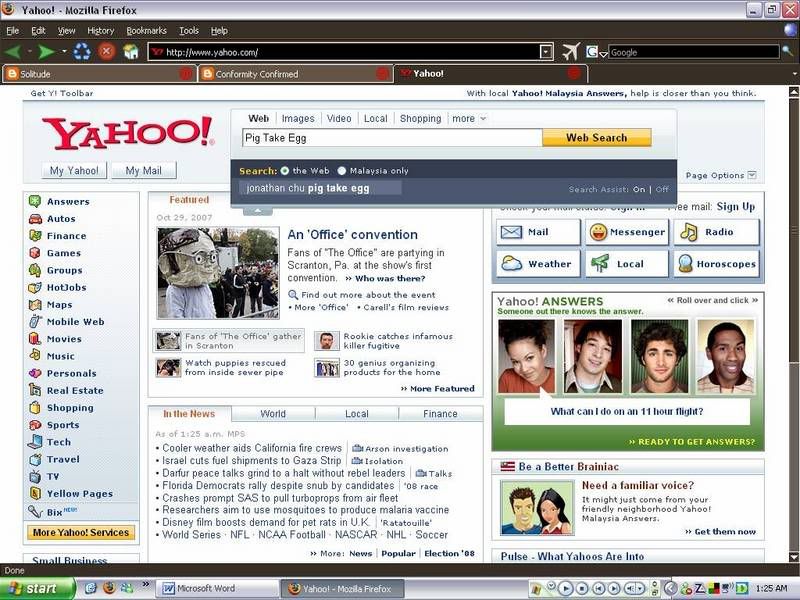 And do you know what that means?
It means, in my very not-so-humble and narcissistic view...
I'm quite famous.
HAHA.
Okay, forget about the DFA (Desperate For Attention) talk.
I was merely finding a way to amuse and entertain myself.
Okay, say it out loud. "Poor Jon."
Back to the topic, isn't it great that even Yahoo Search would suggest
"Jonathan CHU Pig Take Egg"?
There are so many Jonathan's in this world.
But Jonathan Chu.
Awwwwwww... A pat on my own shoulder.
But then, I decided to only search for "Pig Take Egg"...
And I found this...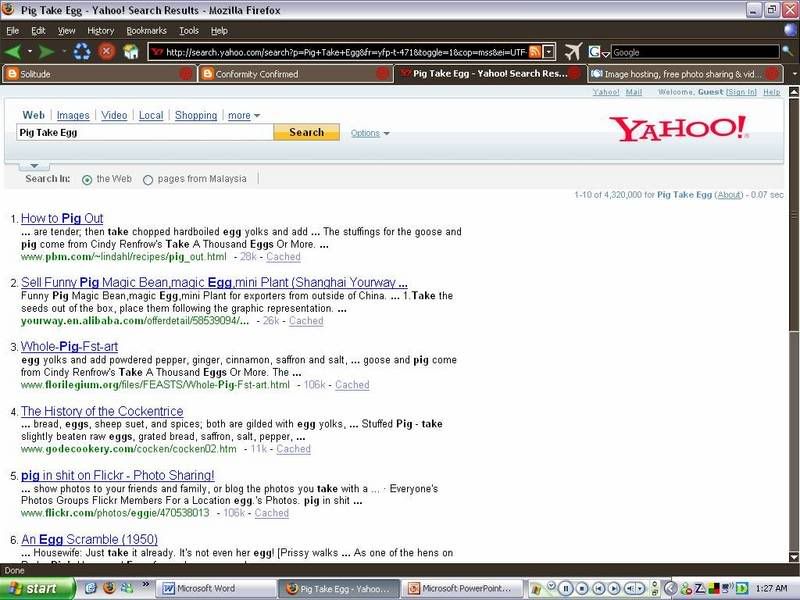 Click for larger view
Can you believe it?
1. How to Pig out.
Err. I never knew 'Pig' was a verb.
2. Sell Funny Pig Magic Bean...
SERIOUS?!?! Some college mates say I'm
-crazy-
-exaggerative-
-insane-
Maybe I'm just infected by the funny pig magic bean.
Thus, it sort of explains why I am so infatuated with pigs.
3. Whole-Pig-Fst-Art
At my first glance, I thought it was...
Whole-Pig-Fart-Ass
Oh my pork! I'm so... Oh well.
*shrugs*
I didn't bother reading the rest or clicking to the links.
I guess I was somewhat entertained.
p/s: If I sounded narcissistic, it's because somehow I really am.
I think it's every Mass Comm student's trait.
Aww, come on, just admit it.