[P/S]
Remember my bulk purchase of books during the penguin warehouse sale? You could read them here and here. Well, I bought this book for only RM 10/= then. :D
--------------------------------------------------------------------------------------------------------------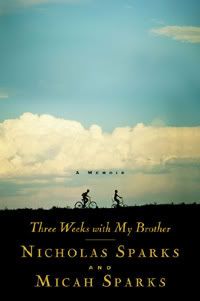 Three Weeks with My Brother
Nicholas and Micah Sparks
A Memoir
Time Warner Books
Rating: 8/10
For more information about my full review on the book, or a brief introduction about the book, visit
Whispering Words: Review on Three Weeks With My Brother
This book is just magnificent, in my humble opinion. Reading this book has given me a new perspective in handling relationships with my siblings and parents. Sometimes, I realized, that when I love my family so much, differences just seem to diminish. Granted, everybody has his own sets of weaknesses, but for my family, it will not be a stumbling block, or a deciding point where I tell myself that I should stop loving them.
This book presents a very refreshing and heart-warming story between two brothers who stayed together even when their beloved parents and darling sister died. They have struggled a lot, and both - men - have broken down to tears countless times. They did not pretend to be strong, but they held and embraced each other throughout each storm.
Do you dare to hug your sister or brother in front of others, my friends? Well, Micah and Nicholas Sparks dare, because of the heartache they've experienced together. The ending for this memoir is simple yet powerful, for it demonstrates the power of love between brothers.
What I liked about this book:
heart-warming
it's a memoir (although I don't read memoirs often)

honest
not so emotional but quite emotional at the same time
the authors' ability to mix the present and the past with brilliance
the ending
the starting
basically, the WHOLE BOOK la.
What I disliked about this book:
short. It's 350 pages. I wanted to know more about their lives and what happened to the family!
I think that's all.

Nicholas Sparks wrote with a not-so-colloquial language, which I like. Comparing it with A Walk to Remember, I would prefer this memoir. Why, you ask. I don't know.
If you feel like reading something satisfying, if you feel like understanding the feeling I am feeling now... go buy that book and read it. :)
It's a good read, trust me.