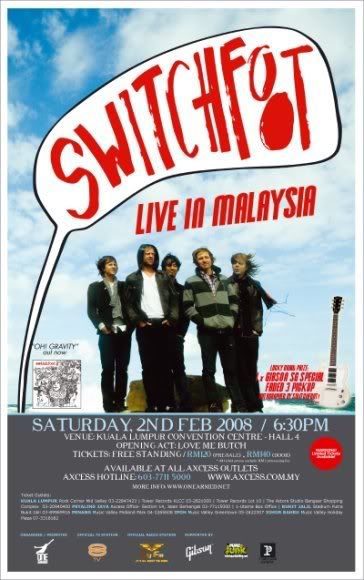 Long awaited band - Switchfoot - is finally coming to your homeland, Malaysia!
Oh! Gravity
Beautiful Letdown
...
Sing it on.
But what's the use of singing it with a recording? Sing it LIVE!
They are coming to Malaysia. Below are the details:
Date: 2/2/08 (Saturday)
Time: 6.30pm
Venue: KLCC Convention Centre, Hall 4
FREE STANDING.
Purchase tickets at ALL AXCESS OUTLETS.
AXCESS HOTLINE: 603-77115000
www.axcess.com.my
Should you want to get to the office, this is the address:
AXCESS Tickets Sdn Bhd
2nd Floor, Block A,
Lot 116, Jalan Semangat,
46200 Petaling Jaya,
Selangor Darul Ehsan,
Malaysia.
So what are you waiting for? Grab your tickets as soon as possible and prepare to rock!
Please note that there will be an RM 3 processing fee.