------------------------------------------------------------------------------------------------------------

My mind is very unorganized as I type this post. For this, I apologize.

------------------------------------------------------------------------------------------------------------
It was a hit. It was a big hit.
The hall was filled with people until it began overflowing.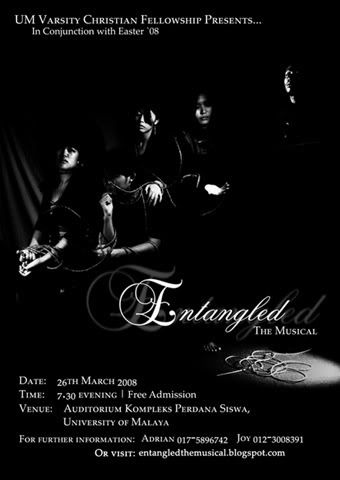 I remember the lights shining about, the chatters that begun drowned my thoughts. I looked about the hall. This was the moment. The moment to sparkle. The moment to tell the story of five different individuals who somehow found entanglement.
We prayed. We committed the event to God, believing that He will use the story (that did not mention 'Jesus' or 'God') to touch lives.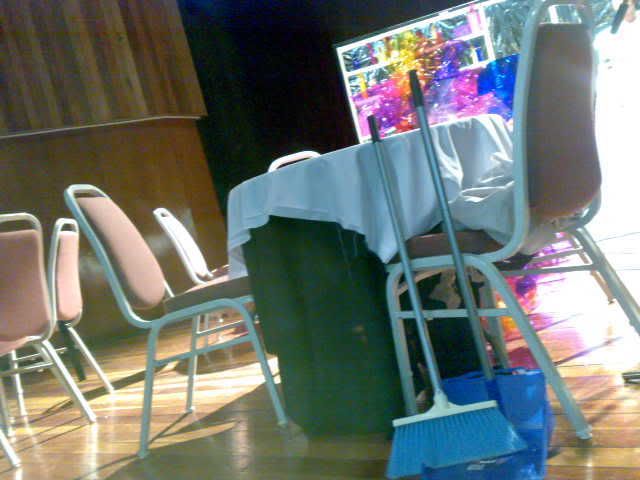 This was the simple deco for the cafe. It was the spot where
Cassandra
first appears, singing her famous cafe song, "Sweet Melody."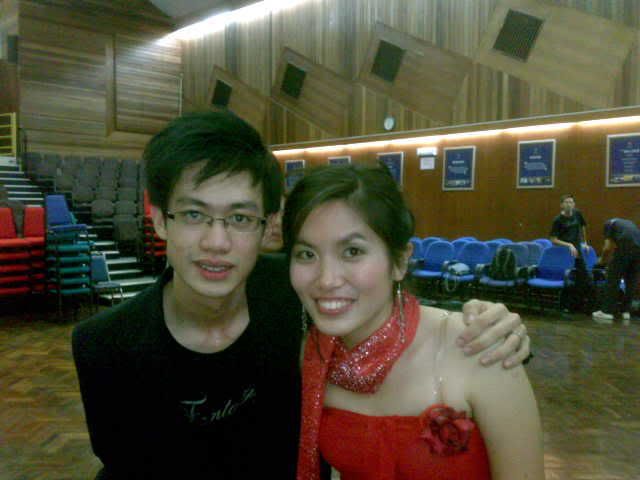 This is
Cassandra
, the star of the story,
Entangled
. Believe it or not, before practices, she did not look the way she looked on stage. She could not sing 'Sweet Melody' in G major. She did not have the confidence to carry the songs, to break from her mental prison to show who Cassandra is. Yet, as time went by, she emerged, slowly, and became more and more like the Cassandra in the story.
This is
Anita
, Cassandra's sister, who constantly prohibits Cassandra from pursuing her dream, insisting that dreams are never meant to be pursued because of its futility. Anita (a.k.a. Siew Yong) improved tremendously as the event neared. She began having the look and the glare of the sister. Good job, Anita a.k.a. Siew Yong.
This is
Bernardo
, Cassandra's brother, who was always silent about her pain and struggles. She blames him. She disliked his attitude. She was ignorant about her brother's pain. He suffered and struggled about things she wasn't aware of.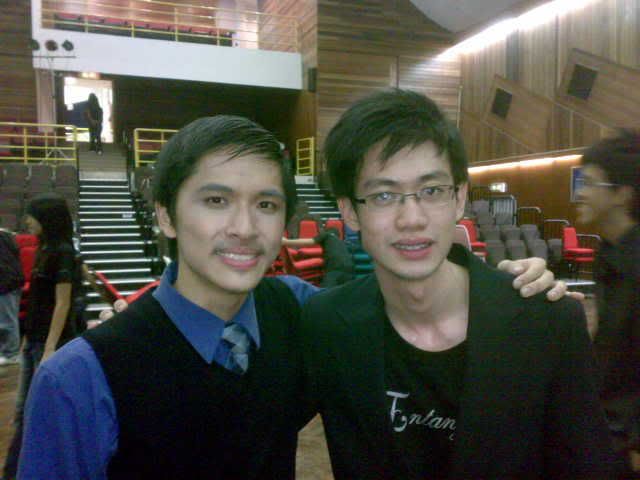 Okay, girls, start screaming. This is
Edmond
, the actor in the story whom many girls cheered for. He was, according to the audience, the best actor in the musical. So, yes, Edmond (urm, I mean, Titus), the award goes to you.
Edmond is one entangled with his past. The memories of the death of his daughter and wife haunts him always. He meets Cassandra who reminds him of his daughter, Clara. He struggles. He is tempted to harm Cassandra, but eventually gives up.
Meet the ever so gorgeous
Desiree/Narrator
who carried the story and pulled the attention of the audience constantly. From a girl who always shies away when she hears her voice into a girl who boldly stands in front of the audience and speak, and inquires whenever she has problems, Desiree (a.k.a. Shoba) managed to show her entanglement to the audience - that loving someone is staying with the person, that loving someone means being entangled by that special someone's problems.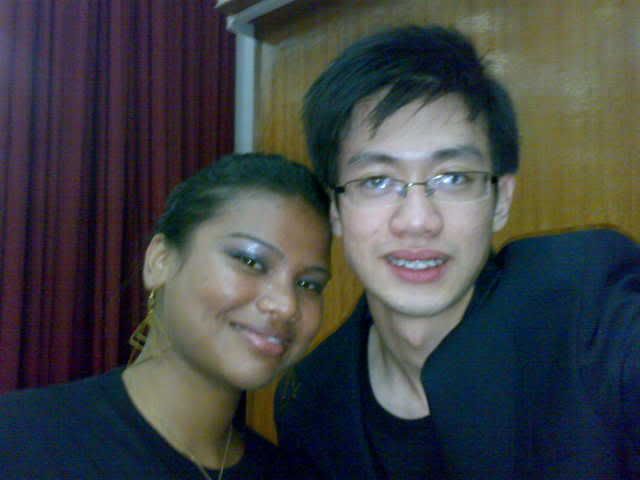 Meet two of the three
hot sisters.
Their theme song:
I am hot, sizzling hot,
I'll make traffic stop,
Set your heart in a frenzy.
You'll begin to go crazy,
We're pots, (as) vain as can be,
Betcha can't find 'nother so pretty!
They are the most popular ones among the crowd because of their song and mannerisms. I remember hearing the crowd roaring into laughter when one of the hot sister announced, "For someone has to see me to separate the beauty from the beast!" That is how good they were.
Meet
Divya
, a friend/assistant director whom I worked with and found many jokes to talk with. She is one with a lot of concrete comments, only if one cares to listen. She speaks her mind out, and is certainly a very good person to work with. Thanks for your help, Divya!
The
event director
. We actually used him to show how Edmond should act more fatherly. He is one contented fler who constantly smiles at simple things. The thing about him that encouraged me the most is his constant smile that hangs on his face despite questions and problems shooting in.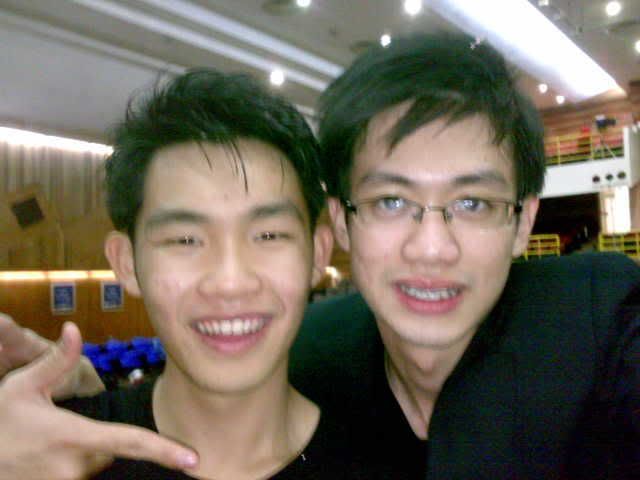 This is one new good friend I have found - my trusted drummer.
Wern Loong
is a humble young man who constantly seeks to play well. It's been a great pleasure to work somebody so talented and humble. I am learning a lot from you, Loong Loong. :)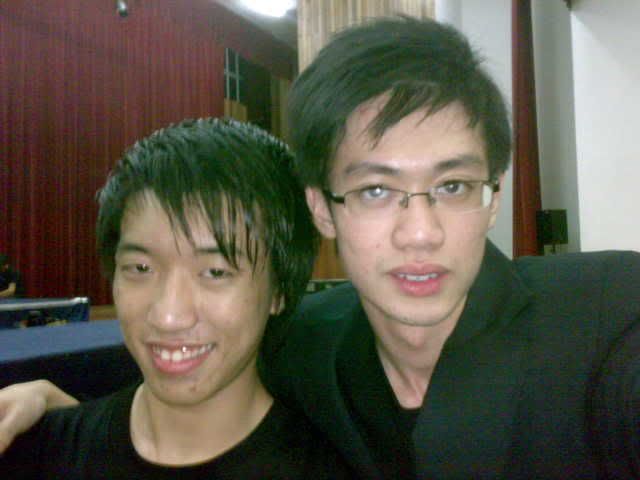 This is another new found good friend,
Kee Aun
. Imagine the crazy things we could come up with. We laugh at things others don't find humor in, and we laugh at each other's remarks (especially my 'Oh, you poor thing!')
I know, I know. This post isn't complete. It was never meant to be. If you have missed the event, I am so sorry. You should've come. :) Yet, you can still be a part of the event by visiting:
Entangled the Musical
to vote for the recording of the album (and of course purchasing it if it is successfully recorded and released).
For those who came, this event wouldn't be complete without your attendance. Thanks for your support. I mean it, it was great to have you around. How was the event for you? Great?
The above pictures were only the ones taken with my phone. Definitely, there will be pictures of the event itself coming up. Stay tuned for more! :)
And yes, just in case if you were wondering why I looked like a ... ghost, or whatever you call it... I only had 4-5 hours of sleep everyday since December 2007. So, those eyebags were accumulated and hence, displayed on the day itself.
All in all, it was a successful event. I thank God for making it work despite our insufficient manpower. I thank God for making it a hit despite our tiredness and our lacking in many areas. Although it isn't as good as a professional musical, I believe we are nearing professionalism. To any PKV-ians who are reading my blog, pat yourself on the shoulder and encourage yourself. You have done well, and hope for greater things the next!
Entangled, the Musical
will always be in my memories. I am having wild ideas about sending the script to KLPac for evaluation. I am having wild ideas of turning the story into a book and publishing it. (Do you know that self-publishing a book only takes about 5K?)
I hope that the musical has blessed those who witnessed it and participated in making it happen, because it certainly gave me a new experience.