You holla hoos who always want to buy cheap clothes listen up. Introducing DarnCheap.com, a virtual shopping website where you can buy anything - everything - at a darn cheap price.
So, why not give the CEO of DarnCheap.com a chance to brace you with the astonishing cheap prices you could get at DarnCheap.com.
Gone are the days where a Padini skirt or G2000 Suit costing you a fortune. Here are the days where cheap prices rule. Think about it: A Padini skirt that costs you only RM 10, a G2000 suit costing you only RM 200.
DarnCheap, right?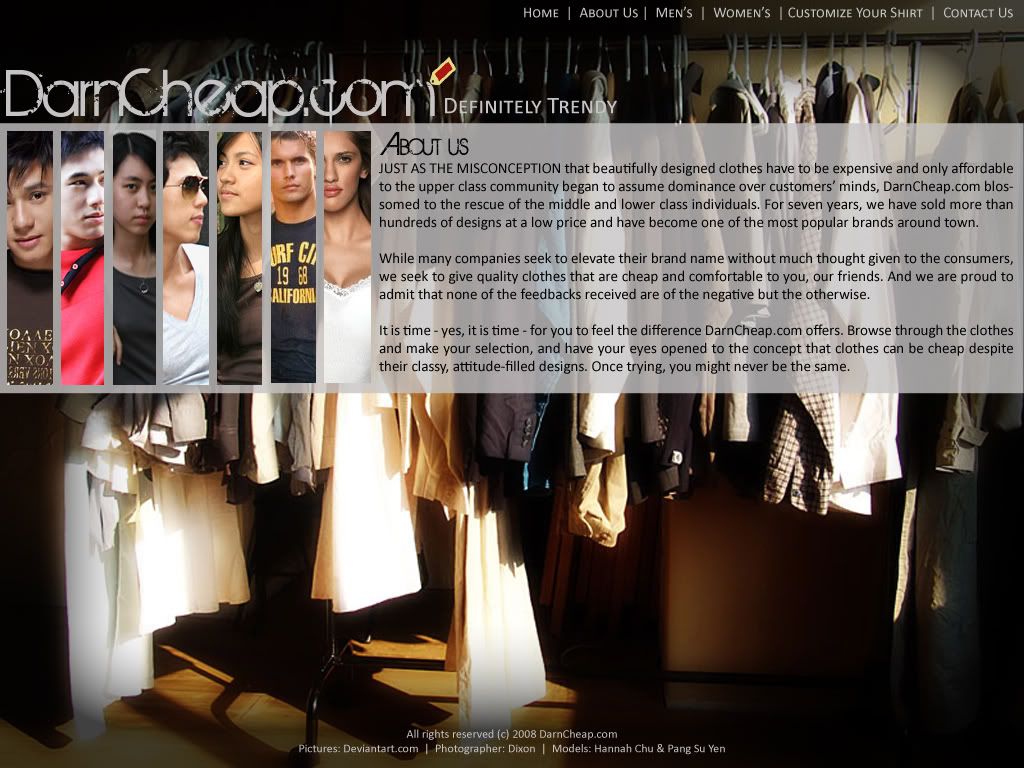 So this very
established
company has been around for 7 years. Where have you been, customers?
DarnCheap.com may be cheap. But it certainly gives you the classy/casual/whatever feel you want. Talk about extravagance.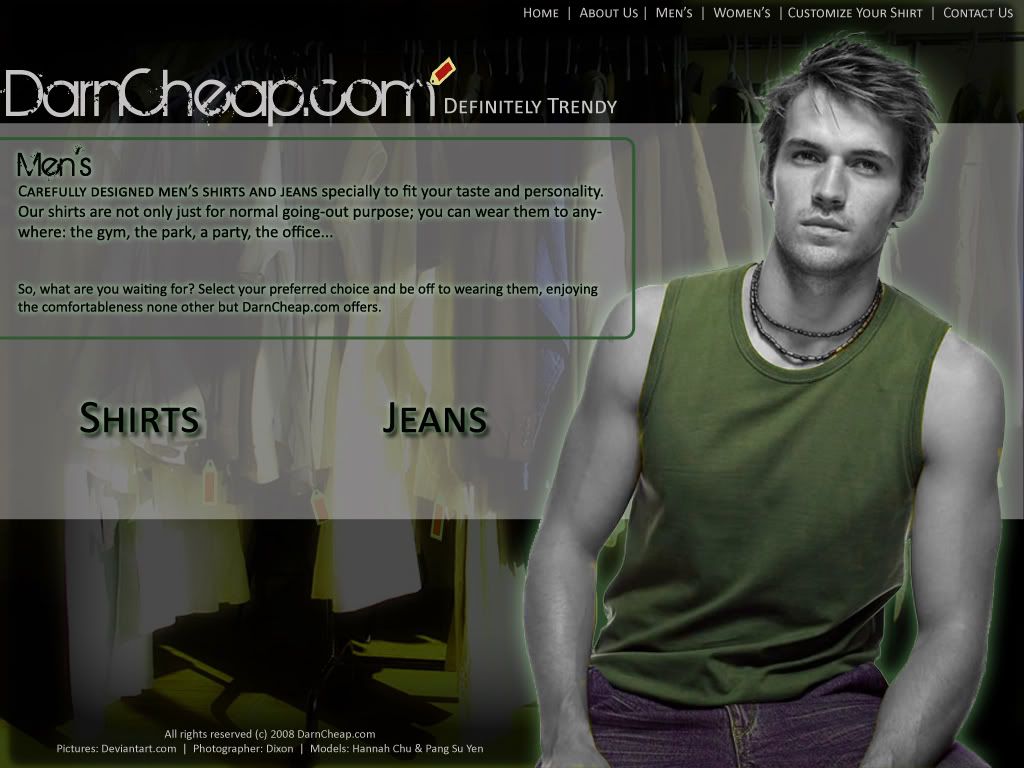 Men. Listen up.
DarnCheap.com brings out the best man out of you. Try - and be transformed.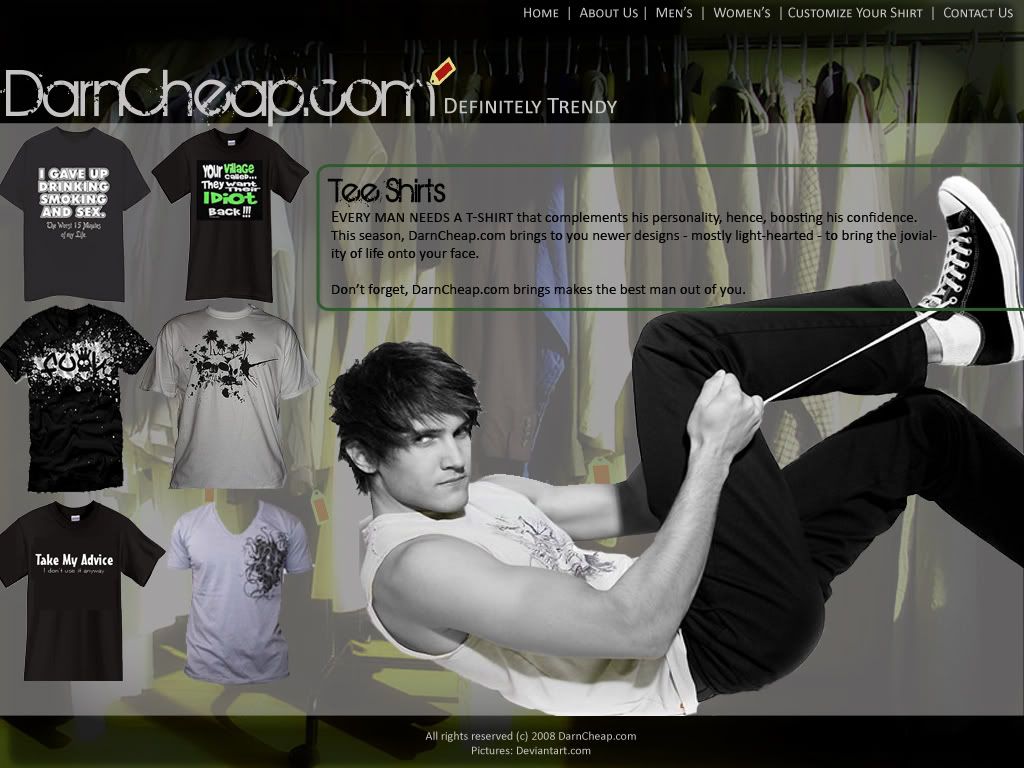 The T-shirts that you wear now as you stare at this ohmygodsuchacompanyexisted? website are tooooooo expensive. DarnCheap.com gives you rates that you can easily drool after. Want to know more?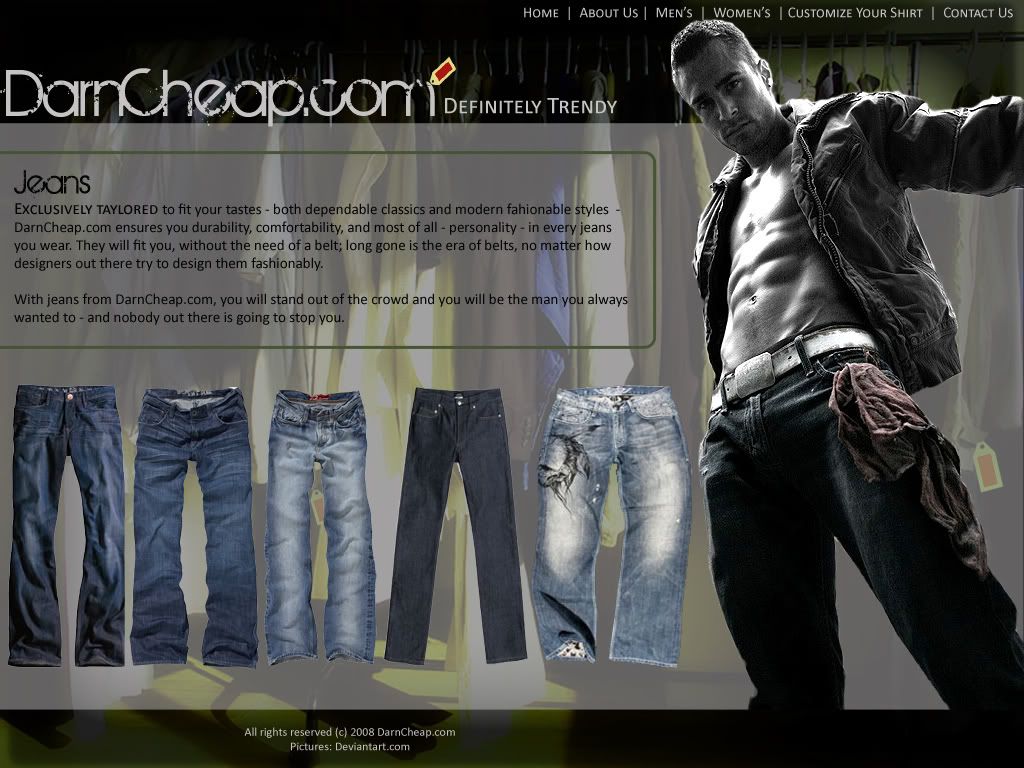 Jeans at other places are way too expensive too. DarnCheap.com gives you beautiful prices. What more, stunning designs. Definitely Trendy - mark that.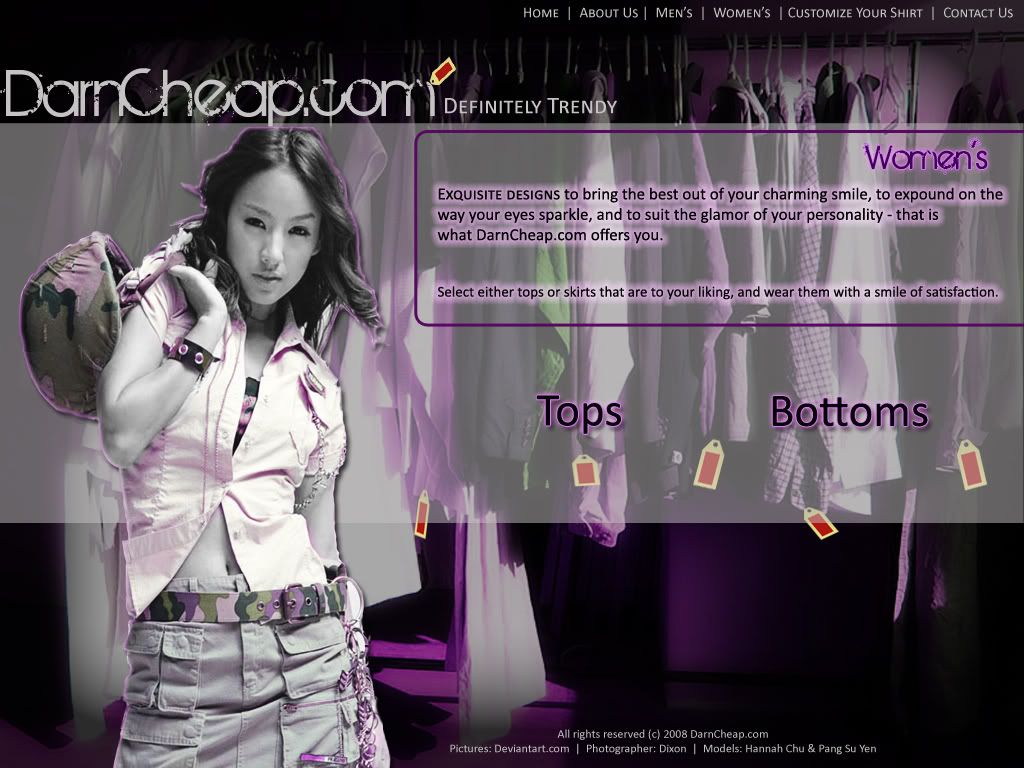 Ladies. What you are wearing now is too unsuitable for you. You need change. Big change. DarnCheap.com offers you that x-factor: change.
Your smile - too boring.
Your eyes - not speaking.
DarnCheap.com changes you from boring to stunning, not speaking to speaking. (LOL at my English)
What are you waiting for?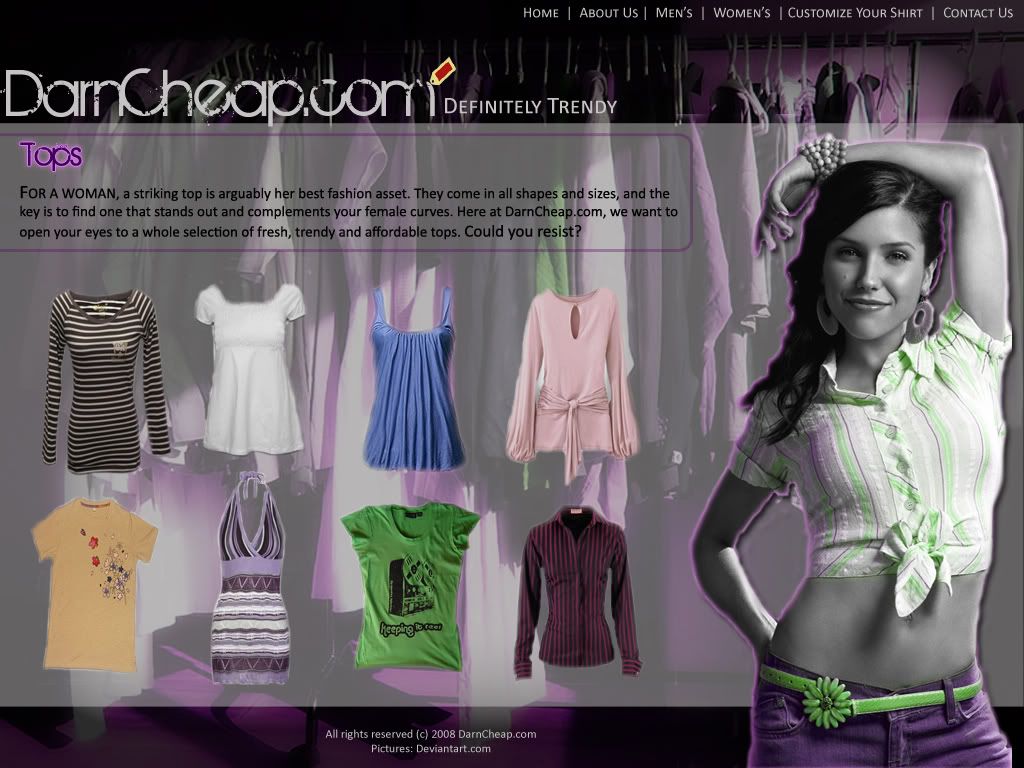 The Tops - as displayed - may be viewed as boring. But they're definitely not; they are definitely trendy. Even Sophia Bush agrees to it.
HA!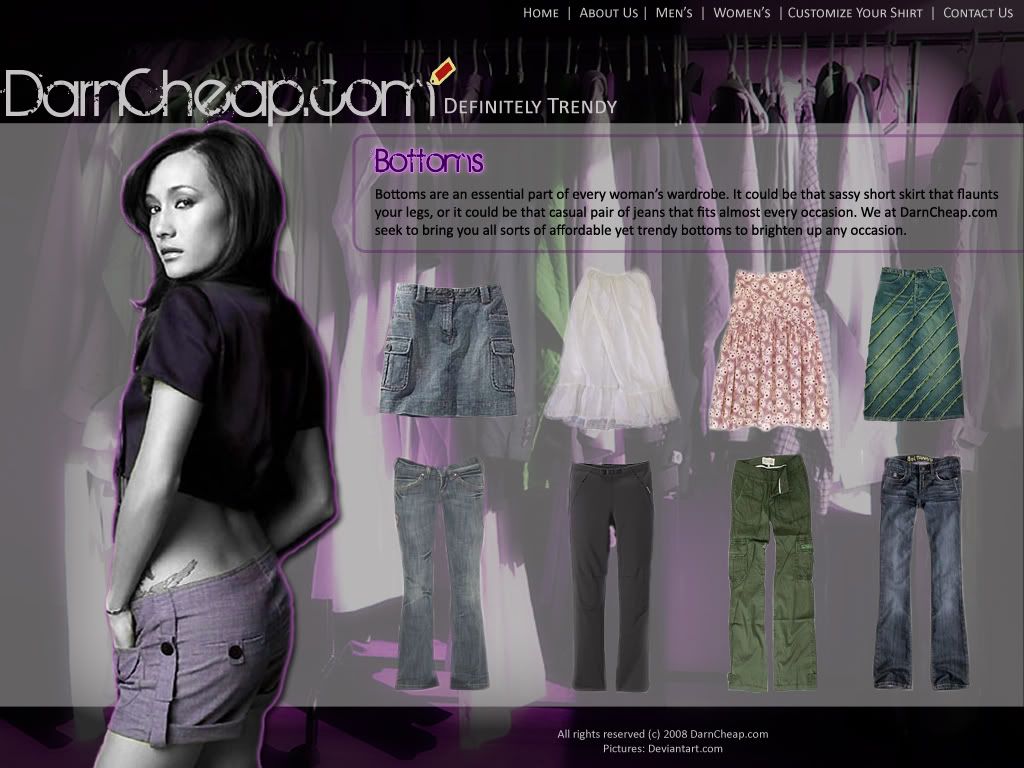 At DarnCheap.com, bottoms are a must in a lady's wardrobe. Though you have some real expensive ones, DarnCheap.com assures you that by purchasing bottoms from DarnCheap.com, you will definitely get the same feeling - extravagance, stylish, and younameit.
So what are you waiting for?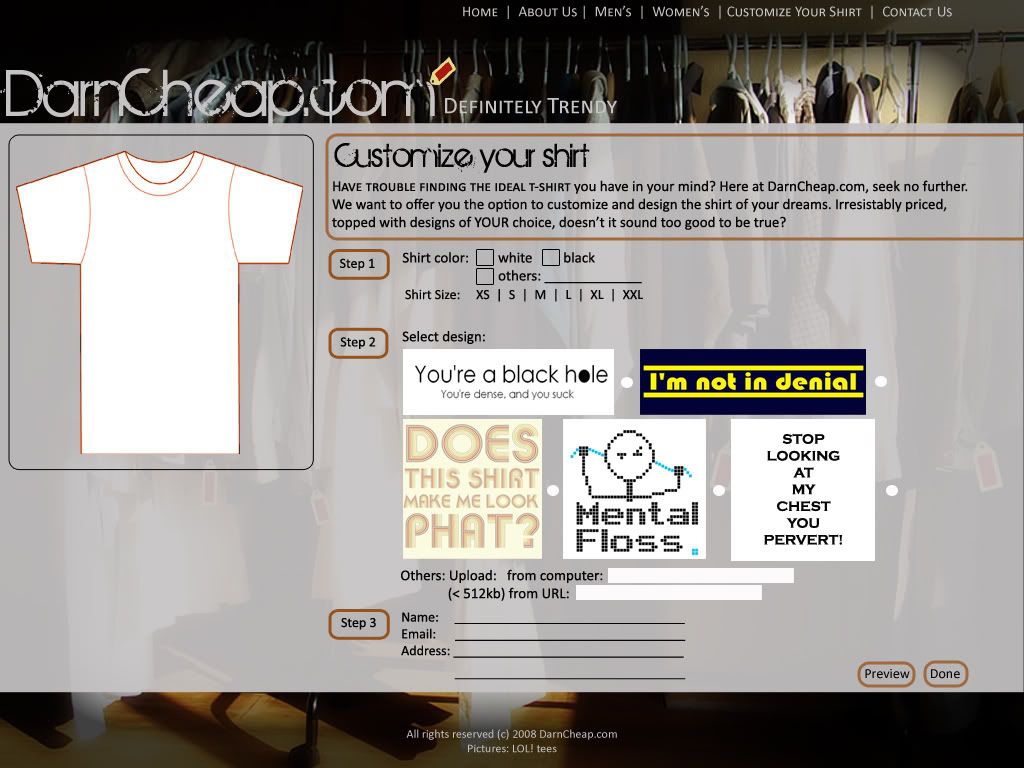 What more, DarnCheap.com gives you the chance to design/create your own t-shirt. You want personality? Here's a chance to have your personality. You want style, you determine your style here. What do you want, you make it yours.
Tell me where else gives you such a chance?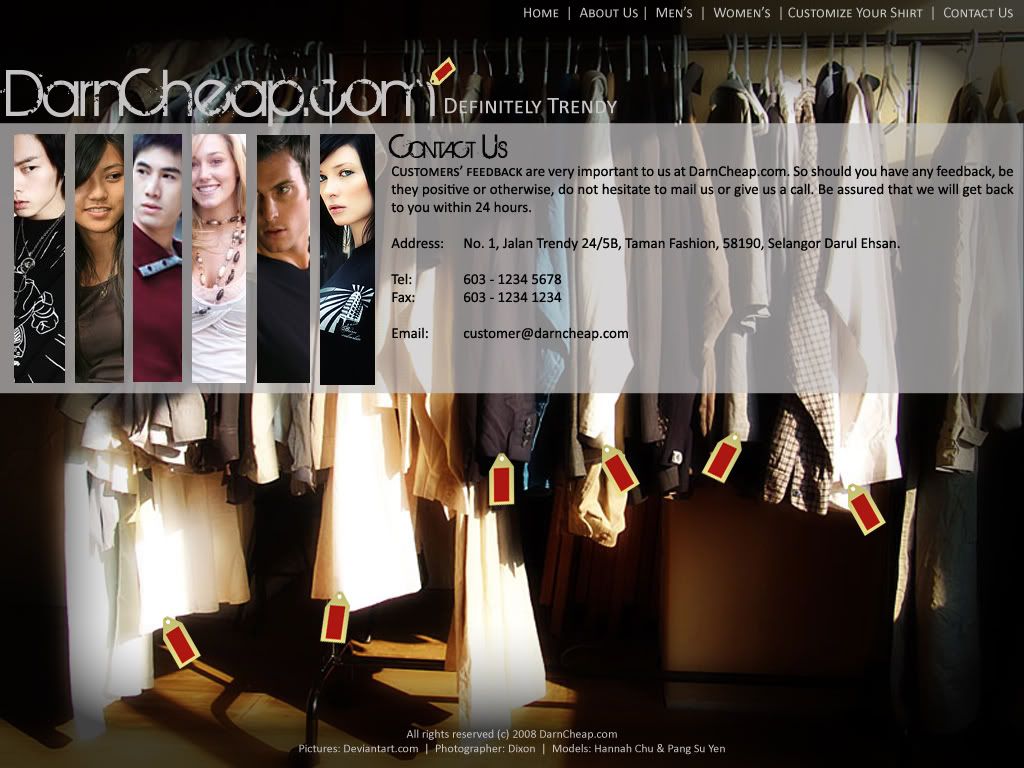 Interested? I bet you are.
You may choose to contact the company. But I tell you what; here's a deal: you get to contact the CEO of this very established company - Pig Take Egg. All you have to do is email: pig.take.egg@darncheap.com
Simple, eh?
As simple as toasted toads.
So what
the hell
are you waiting for?
*************************************************************************************
Actually hor, this company does not exist. XD
The above pictures were just my work for display purposes. :)
Nice leh... XD
Gotta run, I have 5 assignments waiting for completion! >.<