I suppose I now understand why my friends always complain about their assignments and how much they hate assignments rush... However, the one thing I do not understand is about their disinterestedness about their assignments, or should I say, their lethargic dismissal of the accomplishment after completing their assignments?
All I remember about doing assignments is the craziness I have to endure while brainstorming for ideas, penning each idea into words or photoshopping each idea out into pictures, researching... And when they are completed, there will
always
be a sense of accomplishment for me.
However, I must say, that such a feeling has never been one that blow me away.
I suppose it is my personality or expectations that always desire for more. I have to always push myself beyond limits I
think
I can handle. For what reason, I don't know. All I know is that after the sense of accomplishment fades away, all I see is places where I should improve on.
One very good example would be this...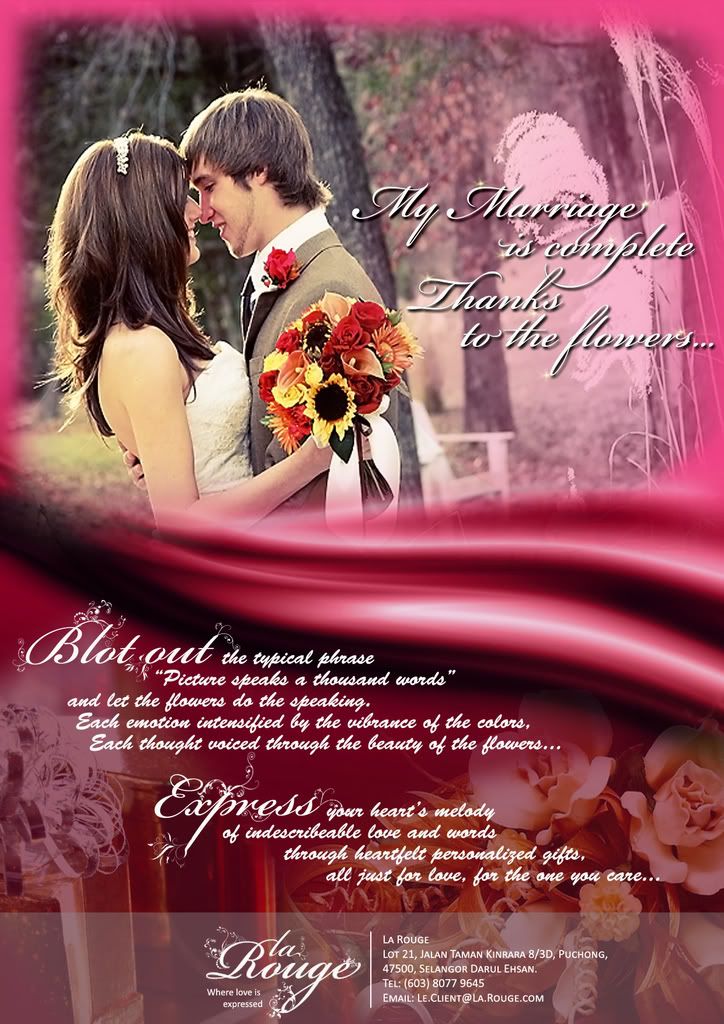 Click for larger and non-pixelated view
Every time I look at it, I always remind myself that there is
something
to improve about it. There is
something
I can do to make this better, or make something better out of this.
Perhaps I be perfectionistic. Perhaps I have high expectations.
I guess I go by the motto:
"The moment one thinks one is successful
Is the moment one stops being succesful."
- Kid Chan
---
Besides that, I have been sleeping averagely two to three hours daily because of this e-commerce assignment. Was helping
Dixon
,
Yen
, and
Paul
to complete their assignment in time.
Let me tell you that I have never had such a good time working in such a large group before; because let me assure you that sometimes working in groups can bring darn migrains to you; some people
never
do their work on time or cooperate...
But this group.
There was nothing but fun, enjoyment, chit-chatting, and jokes... And also, getting work done on time.
So if you were to ask me to pick a group of five to finish up an assignment - let's say, to come up with a business proposal for a company, integrating e-shopping and marketing/advertising strategies - I tell you whom I will always pick (if I have the choice): these three mangatuts (Paul, Dixon, Yen) and Phoebe.
So, here are the pictures of the recent e-commerce craze: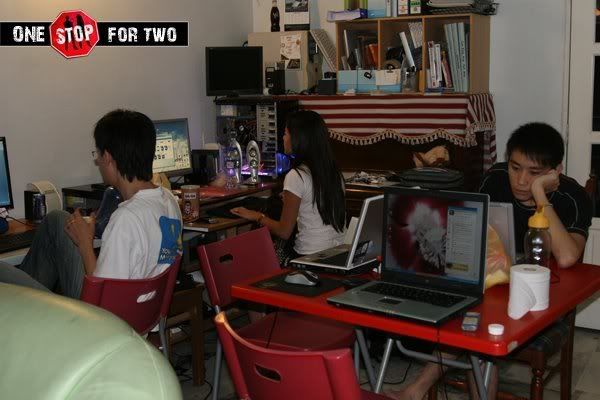 Our humble working stations in Dixon's house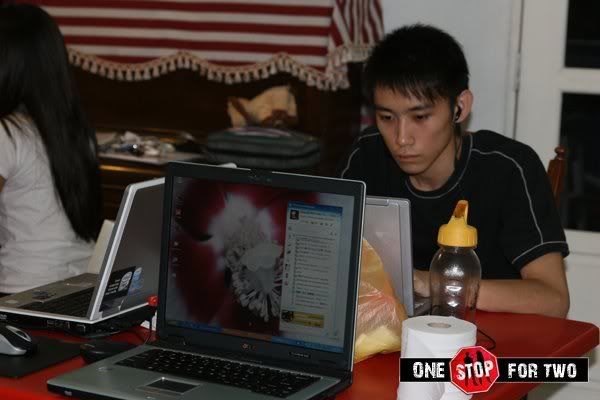 All of us thinking hard how to do up the entire assignment
and make it as impressive as possible
For this assignment, these were the programs that were used:
Adobe Flash ( splash page )
- Adobe Photoshop ( designing and web building )
- Adobe Dreamweaver ( web elements and page linking )
- Lightwave 3D Modeler and Layout ( 3D splash page )
- Microsoft Office 2007 ( proposal )
- Microsoft Publisher 2008 ( forms )
- Microsoft Visual Basic 2008 ( software programming )
- Adobe Premiere ( splash page )
- Sony Vegas ( splash page )

And the tasks were divided according to our strengths:
Paul - web elements, designing & linking
Jon - research & report
Yen - designing & web building
Dixon - linking, 3D animation & splash page

And not forgetting the very important girl who helped
cheer us all just by being with us throughout the night
MSN-ing and cooking for us to eat! - Melissa! XD



I somehow realized, too, that I have to always work with
encouragement. Because they needed my help so urgently
and the proposal had been left hanging for quite some time
with the deadline just a few days ahead, I had to launch into
a full concentration mode. Finished up a 5000+ words essay/proposal
in two days in about 12 hours. Man, am I proud of myself! XD

[And thanks to Phoebe Kim who gave me ideas to finish up the proposal
in such a short span of time! Thank you!!!]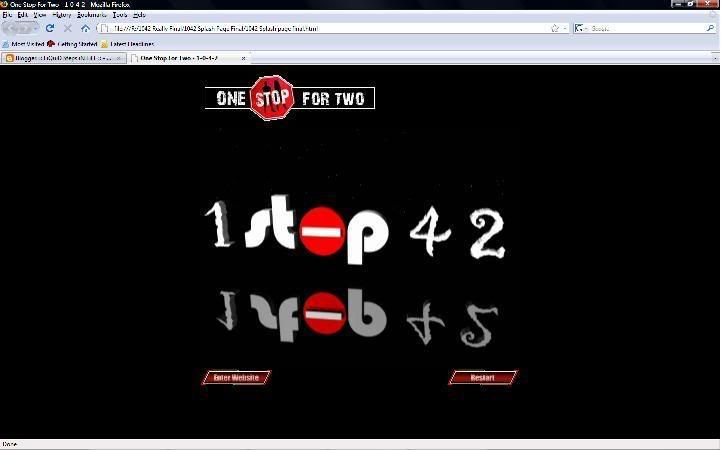 This is the 3D Animated Splash Page for One-Stop-For-Two,
the e-boutique website they were promoting.
Awesome. Simple yet beautiful.
What made it better was the fact that it was
Dixon's first time attempting something so... complex, I must say.
Ask me to do it and I will scratch my head.
But I'd be glad to learn the 3D Animation though.
It just seems so fun. XD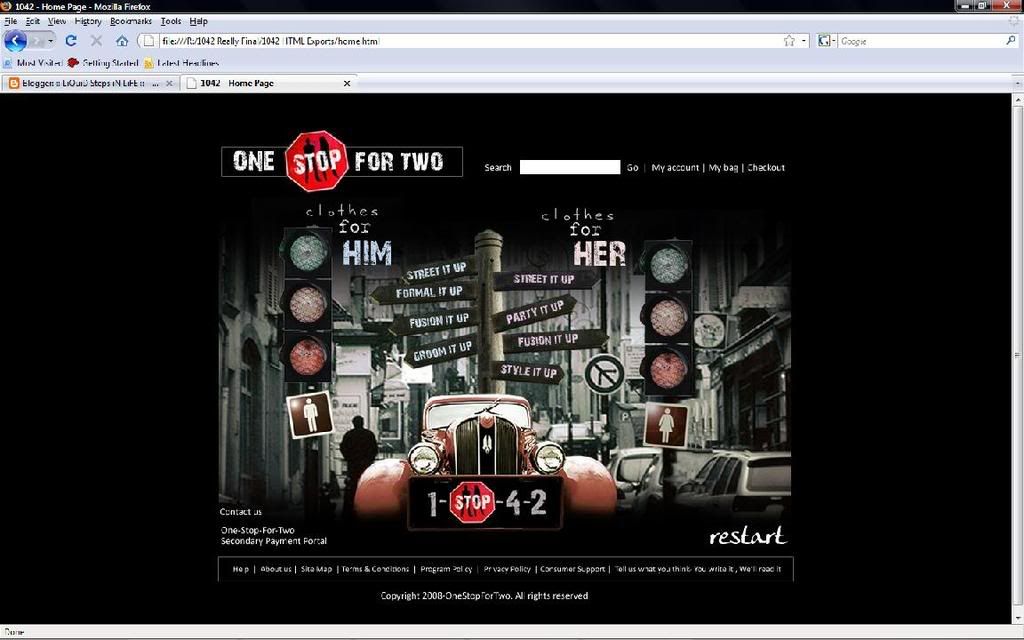 Home page for One-Stop-For-Two.
Awesome designs by brain-design-child Pang Su Yen. =)
After all the hard work, it was time to present their baby (One-Stop-For-Two) to the class and be proud of their accomplishments. The night before was hectic. The sudden realization of loop holes made all of us worried after a serious one-hour discussion about the important points to be brought up, SWOT Analysis and so forth.
We immediately launched into working craze that left us all half dead the next day. However, Dixon, Yen and Paul boy still managed to pull off the presentation. And I am glad for them because not only did they do an awesome job, I am sure each of them benefited from this assignment in different ways like: managing stress, understanding the importance of a well-written proposal, getting as meticulous as possible to pinpoint weaknesses and strengths, working together effectively as a group, communication, crowd control, speaking with confidence...
I, too, learned a lot from working with them.
After the presentation, euphoria took over all of us and we snapped some pictures and Dixon and I finished a bottle of sparkling juice (to substitute red wine, since we can't afford it).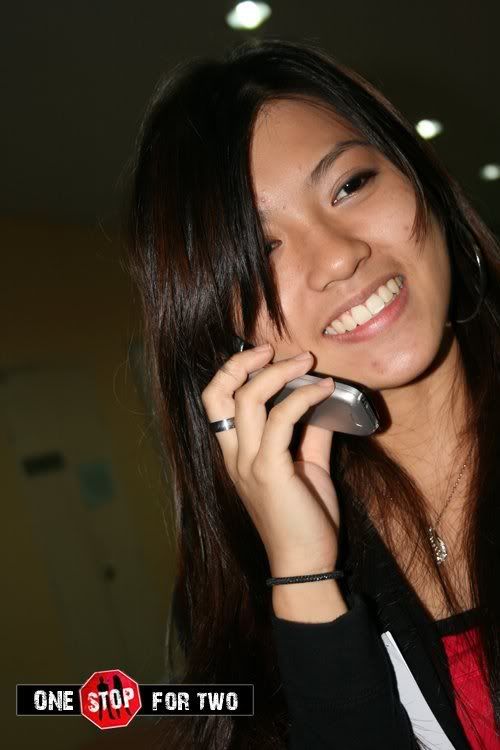 The Boss Su Yen on the phone after the presentation.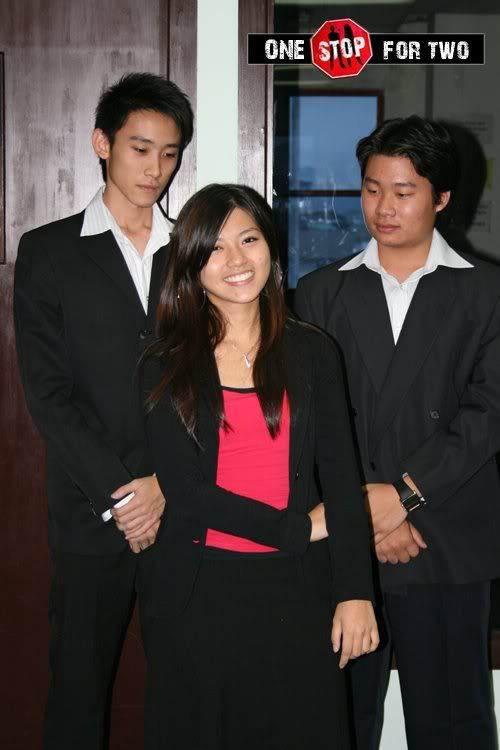 The guys attempting to look bodyguard-ish, but failed.
I must say, you guys look as if you were going to do something
bad to the girl wei! >.<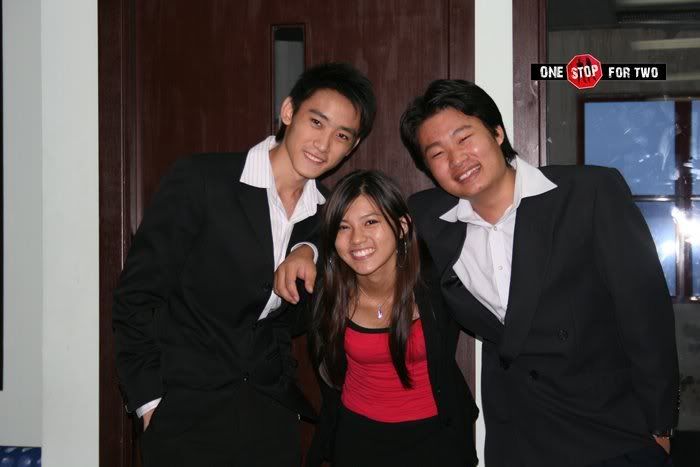 The three musketeers.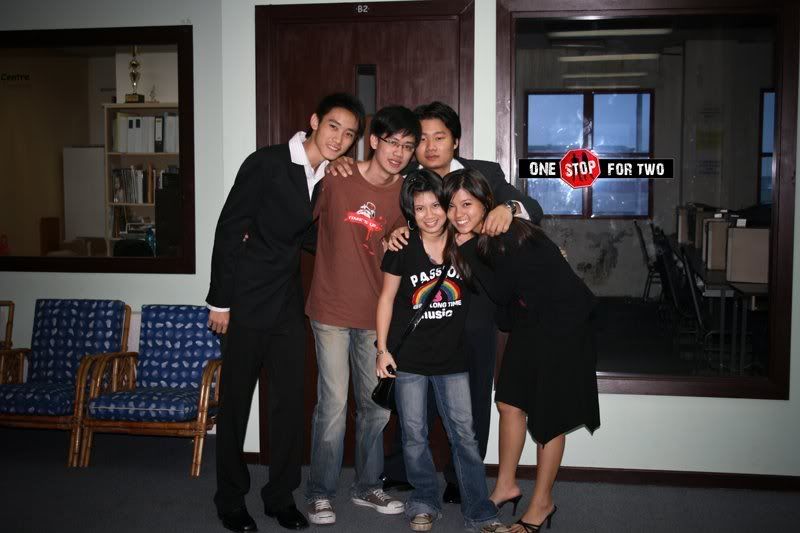 The entire group picture. =)

It has been an awesome experience working with you guys, and I'm very proud of each of you. Thanks. And not forgetting the free Pizza dinner! XD
Credits: Photographs by Dixon Liu





Update:


I just realized that in this assignment, I was the

only

one doing the researching! Gasp. No. I am no geek okay? >.>

And to you three mangatuts (especially Paul boyboy)... SEE! Mass Comm-ers are VERY important. Hmph.