I suppose it's my turn to update about Paul's surprise birthday party, since
Dixon
had already did part 01, 02 and 03. I have to tell you, it was a real funny and memorable event - one that I couldn't stop smiling whenever I reminiscent about it.
It initially started as a pure intention of wanting to just throw a simple celebration for this boy boy. But, after what he did to
Yen Yen on her birthday
, we just had to plan something up for him.
However, this
babifying mangatut
ffk-ed us (Melissa, Yen, Dixon, Hannah my sis and I) on his birthday. We called him just to sing a birthday song to him, not only did he canceled out call, he also didn't say thank you. Too much, Paul, too much.
We had enough; we had to do something outrageous.
We met up at SS2 at 11.00pm and came out with a plan. A real evil plan.
I was to book Paul for curry mee, Yen Yen would sms him saying that Melissa met in an accident, Dixon would call me to state the 'truth'. I had to act shocked and drive him over to Dixon's house.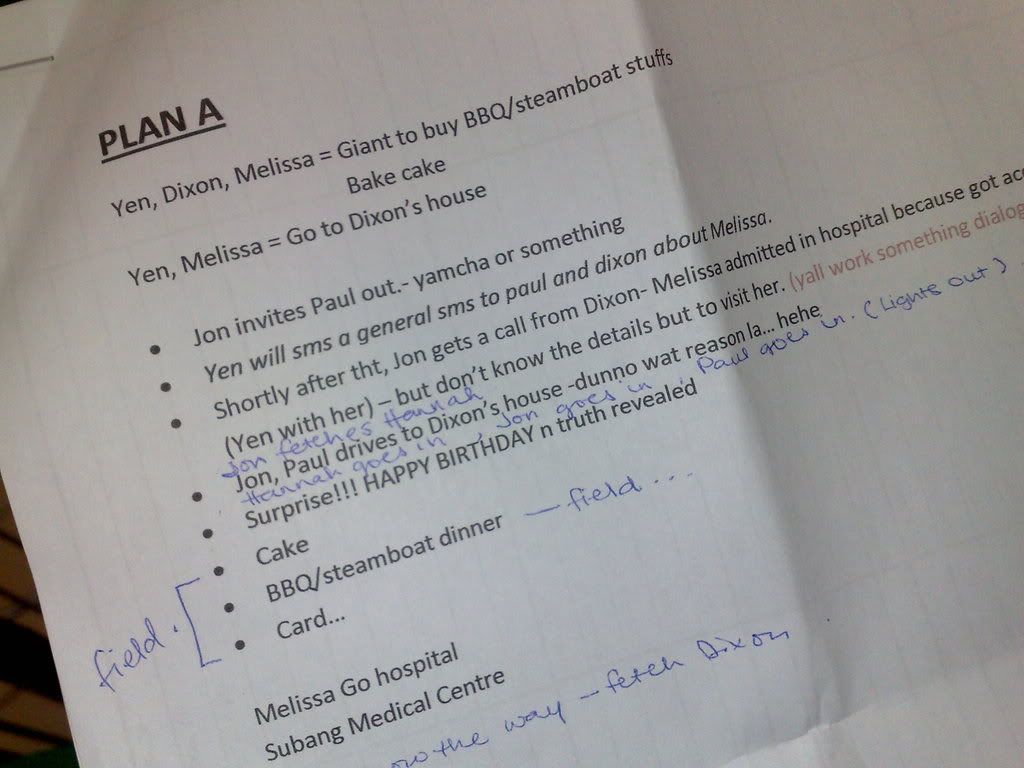 In addition to the above craze, we decided to bake a cake for him too.
I am not talking about some
chiplak
spongecake; I am talking about some rich creamy moist chocolate cake (richer than Secret Recipe's Chocolate Indulgence).
So, we went shopping on the day itself.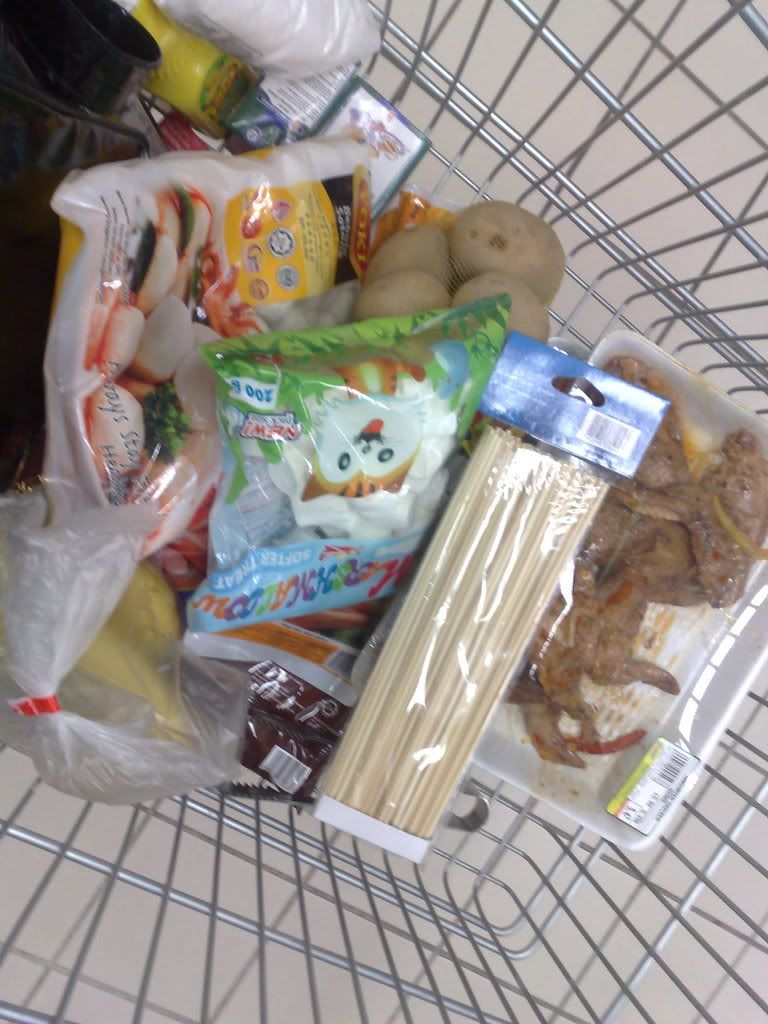 The stuffs we had to buy... the list continues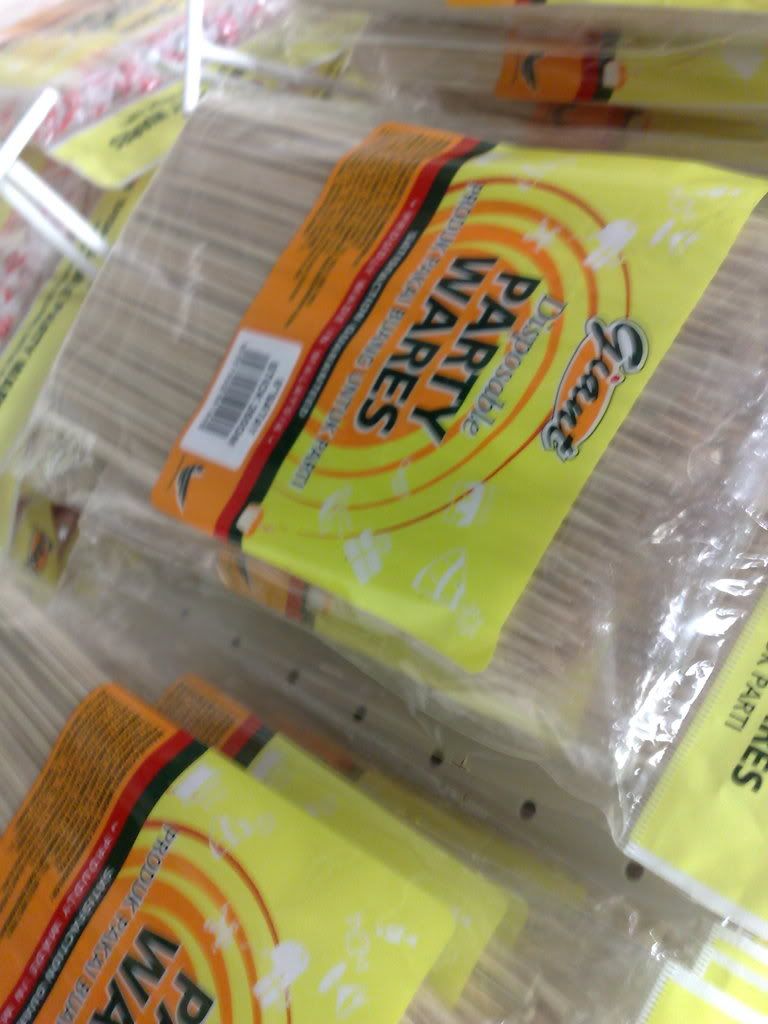 Since we didn't have skewers, we bought sticks
just to fit the meat...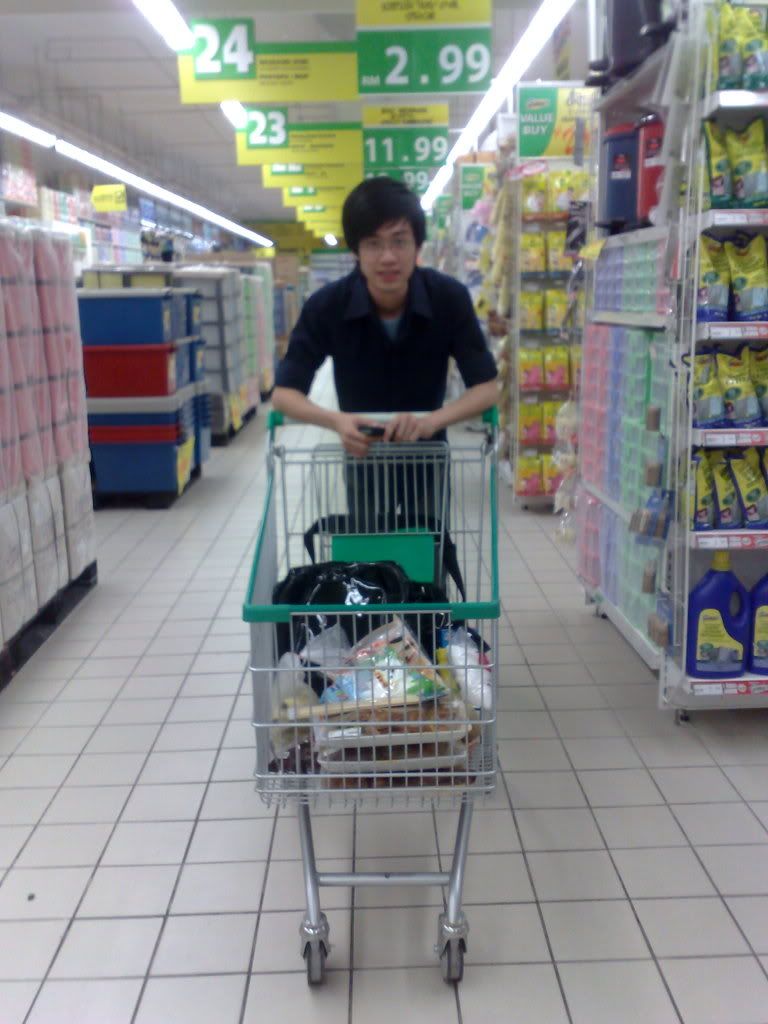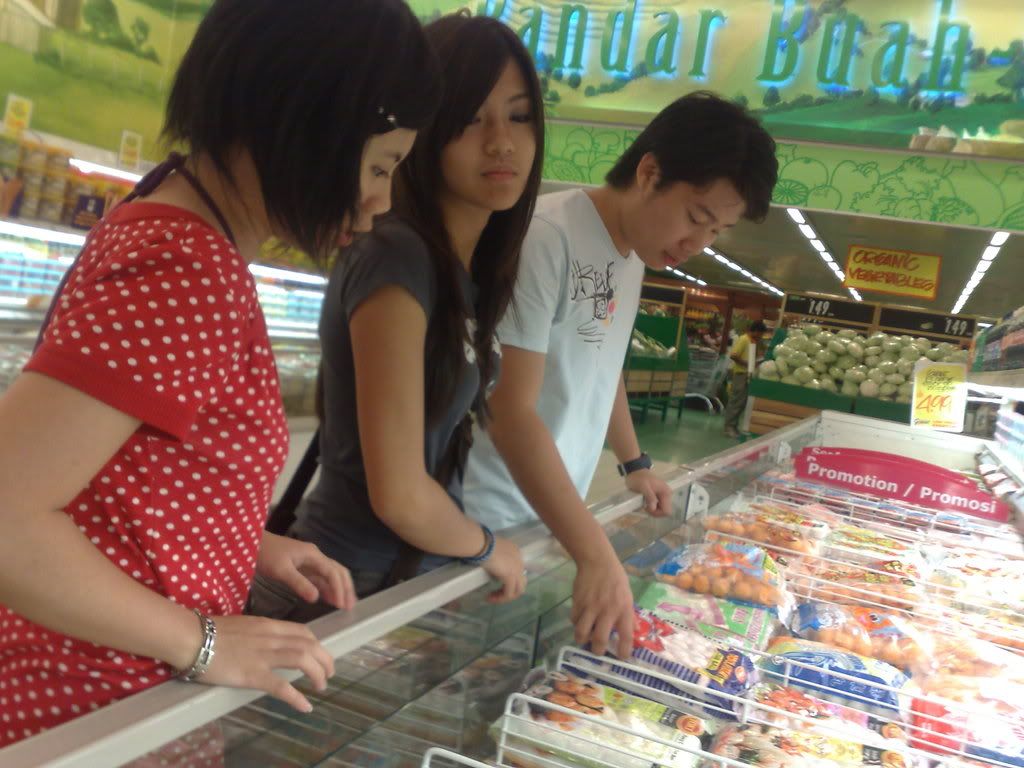 Thinking hard which to select...
Yen looks bored. @.@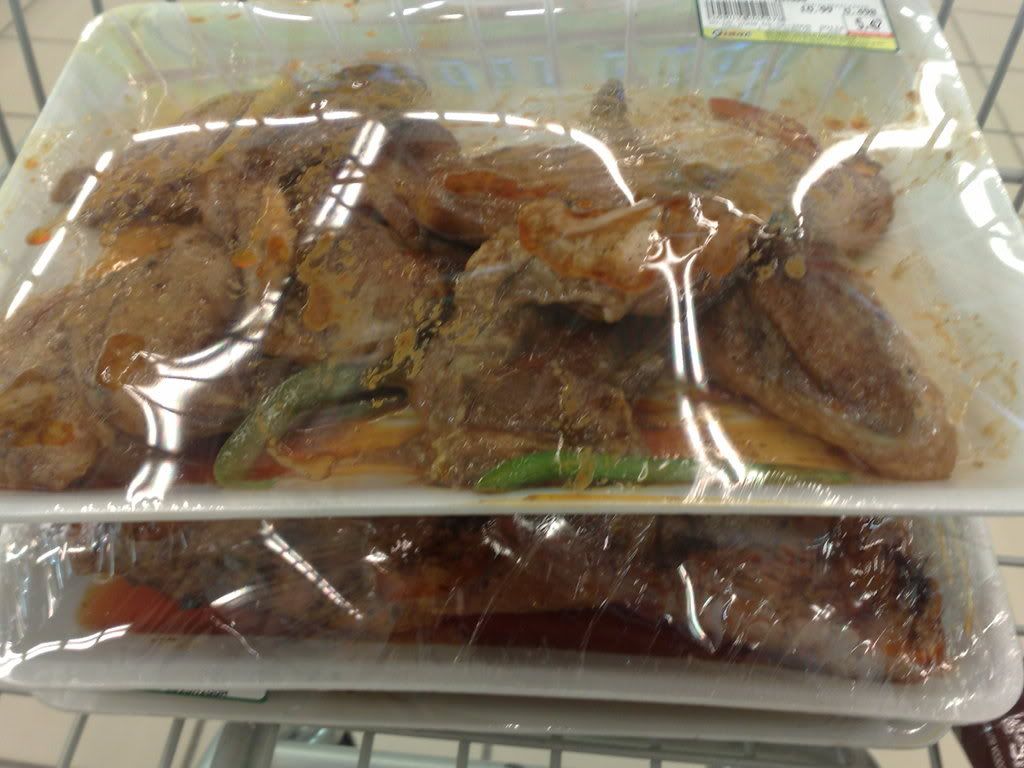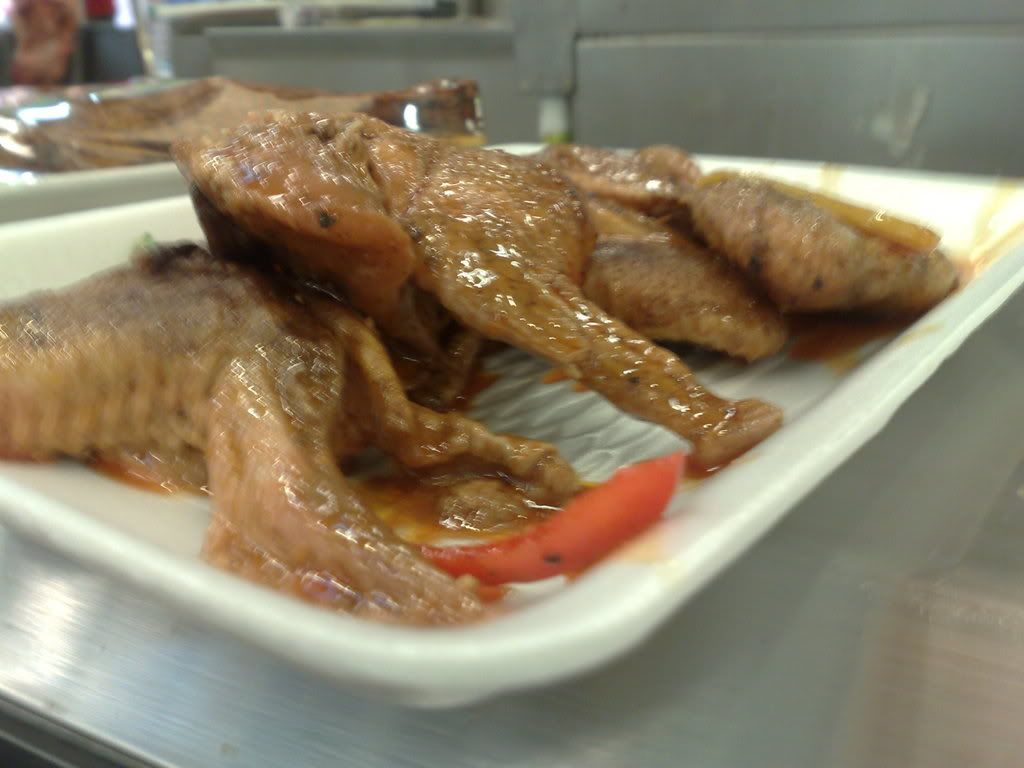 Beautiful meat. Beautiful meat.
Had I told you that I like to eat meat too?
I am NOT a pure vegetarian, you know.
I love meat too.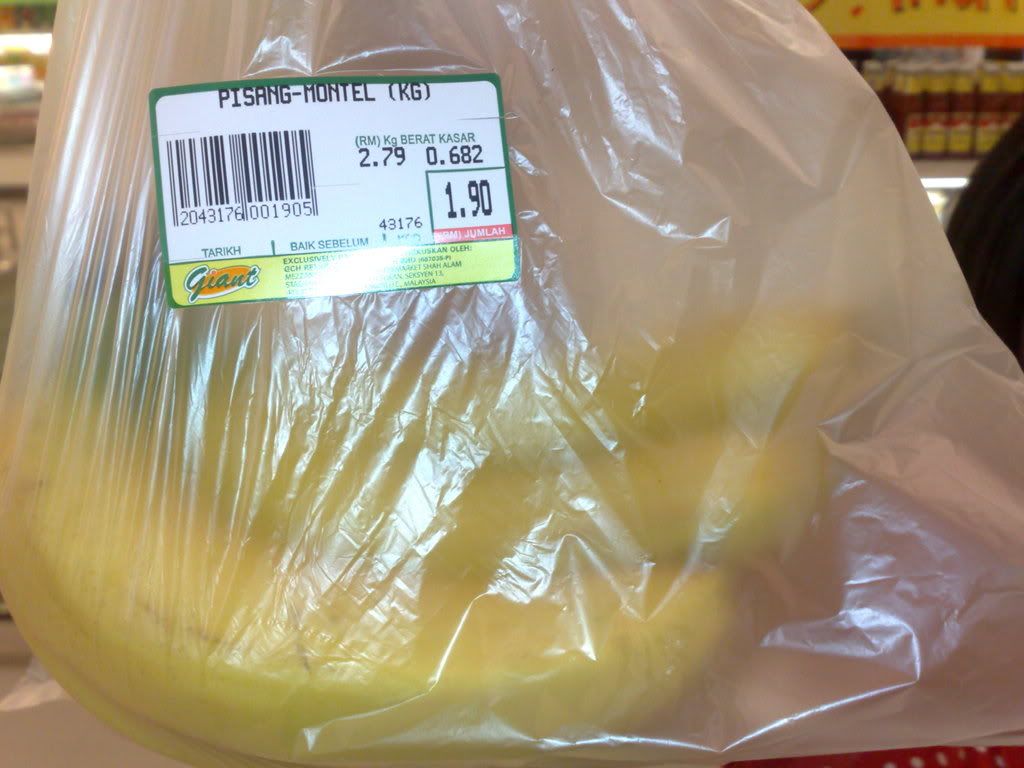 The beautiful bananas for Paul
Muahahahahahaahaa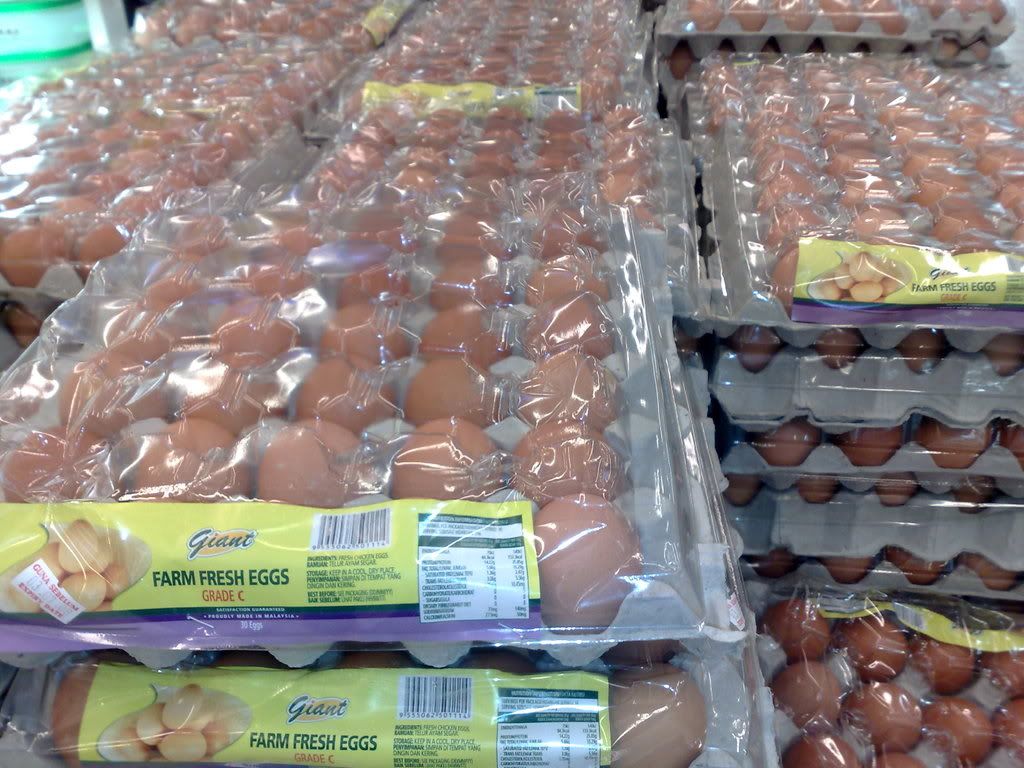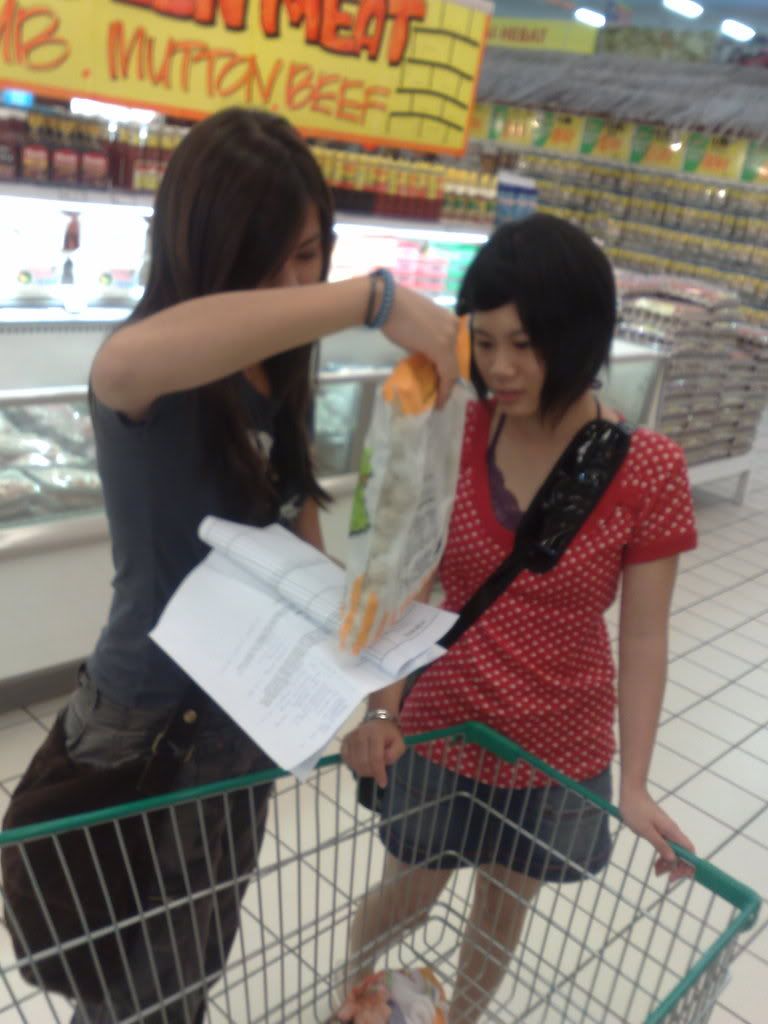 The girls checking if it is what they want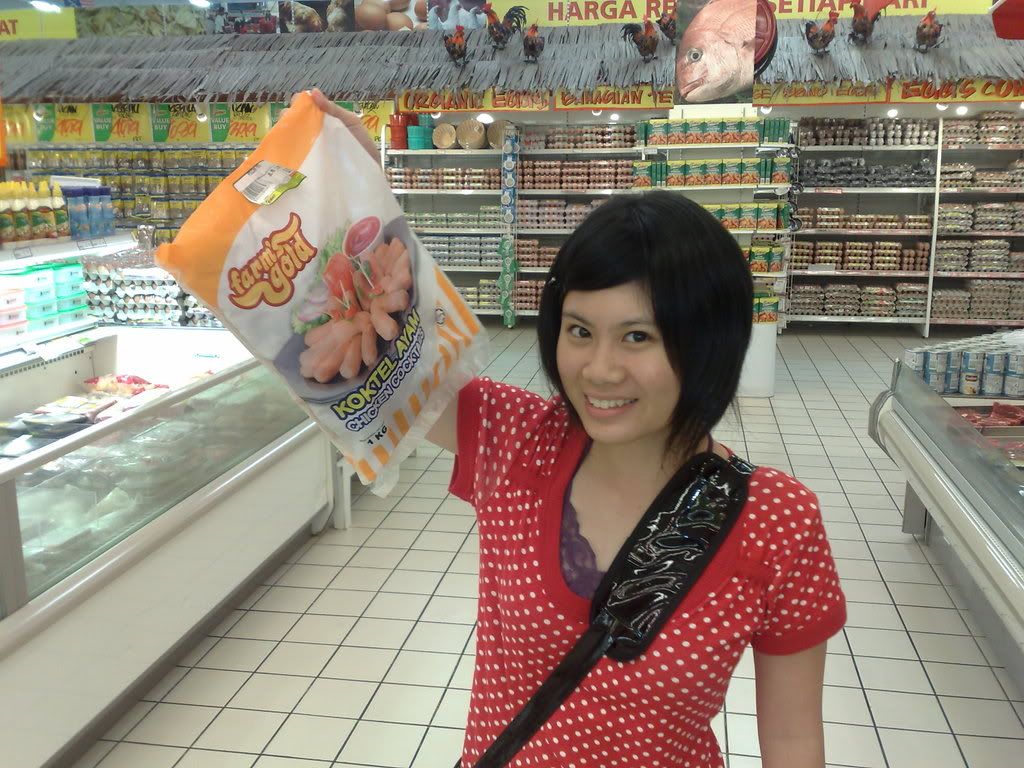 So it's confirmed; that is definitely
what we want.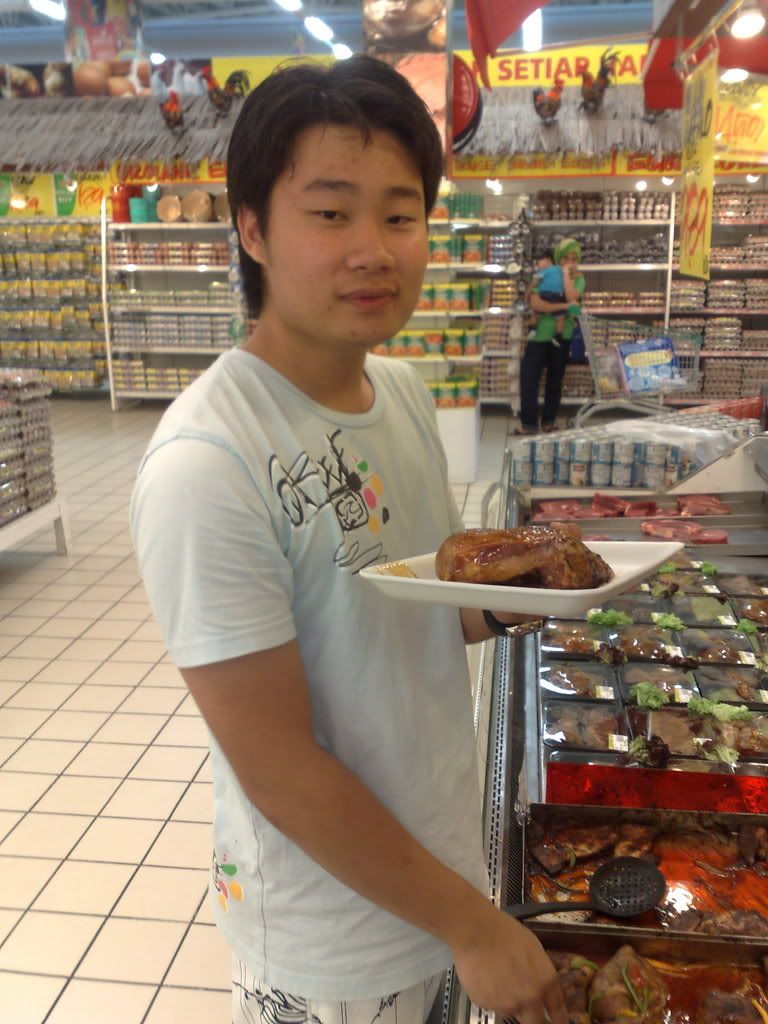 Do you know that Dixon LOVES meat to the
core of his bones?
You should've seen that snicker on his face
while scrutinizing each piece of meat.
And oh, he proved to me that he could
- just by the looks of the meat -
calculate how heavy it is.
@.@
Don't ask me how.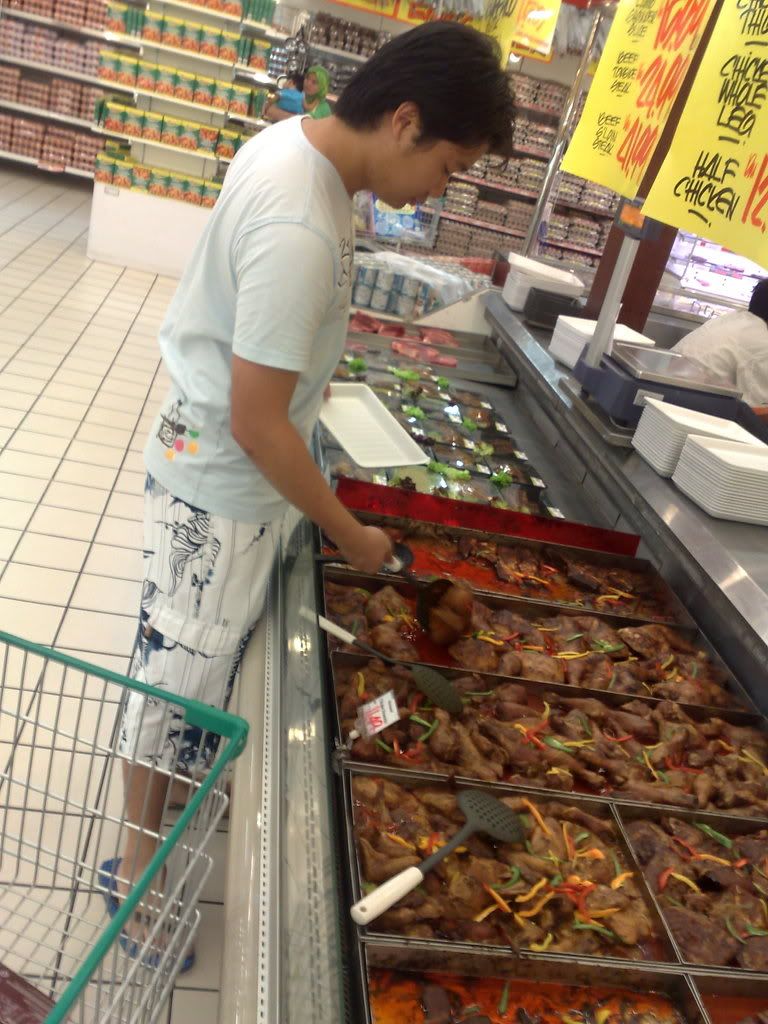 We actually took some time to make our
meat selections. Not all of 'em are good, you see.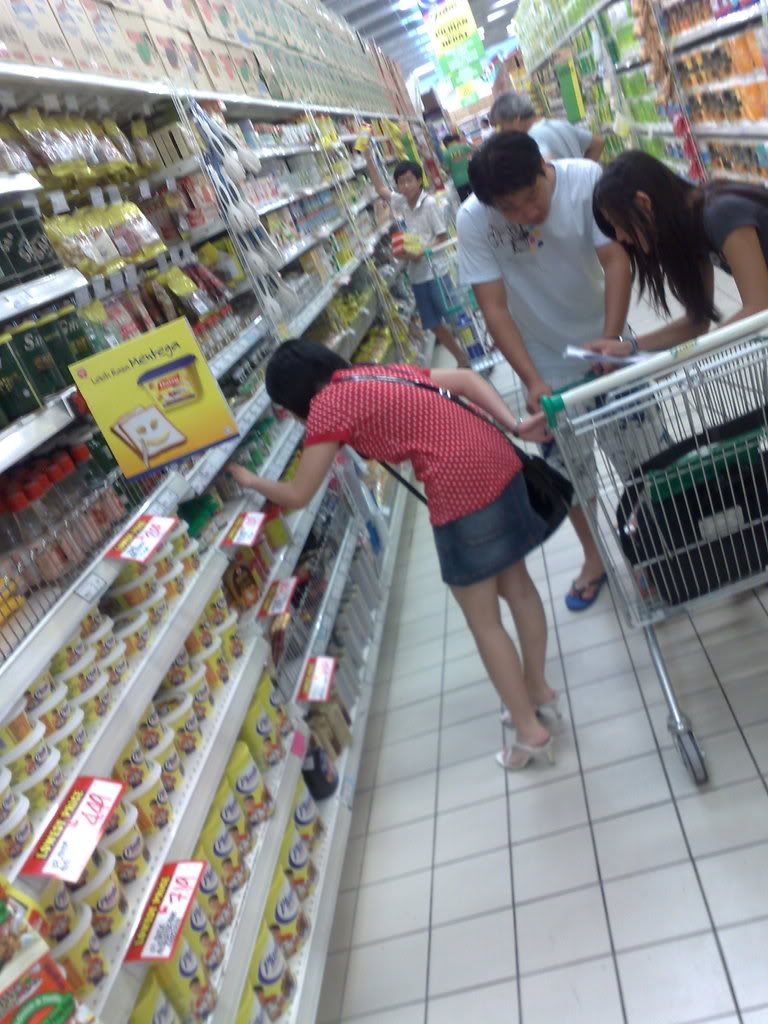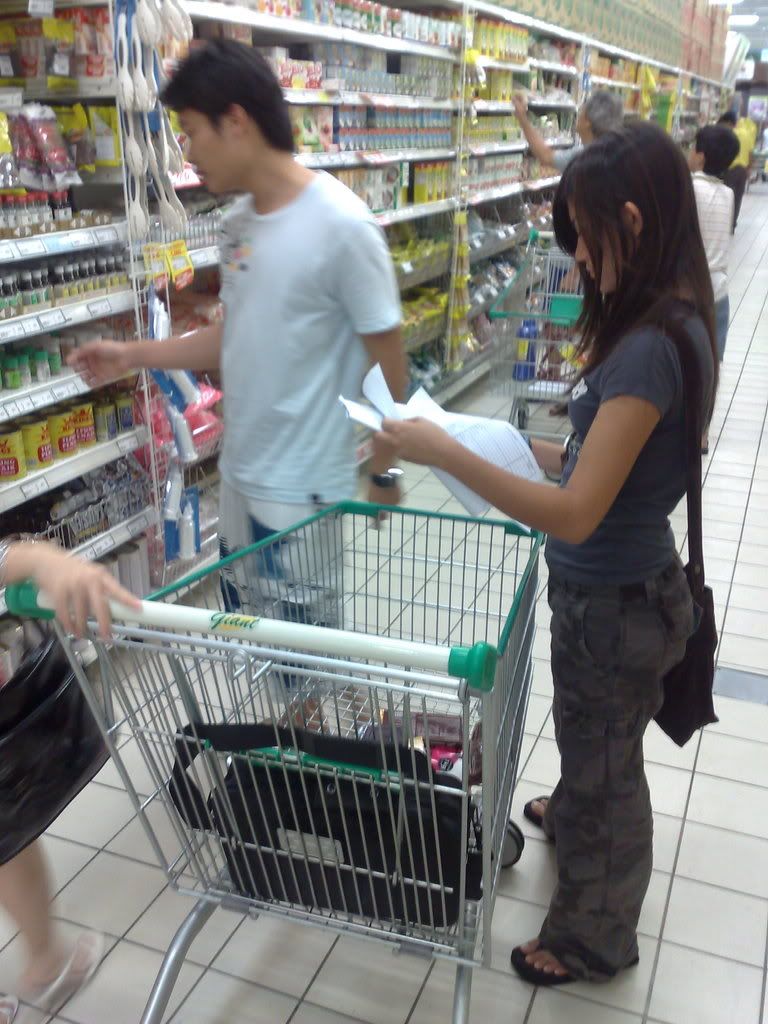 Yen checking if we are on the right track again.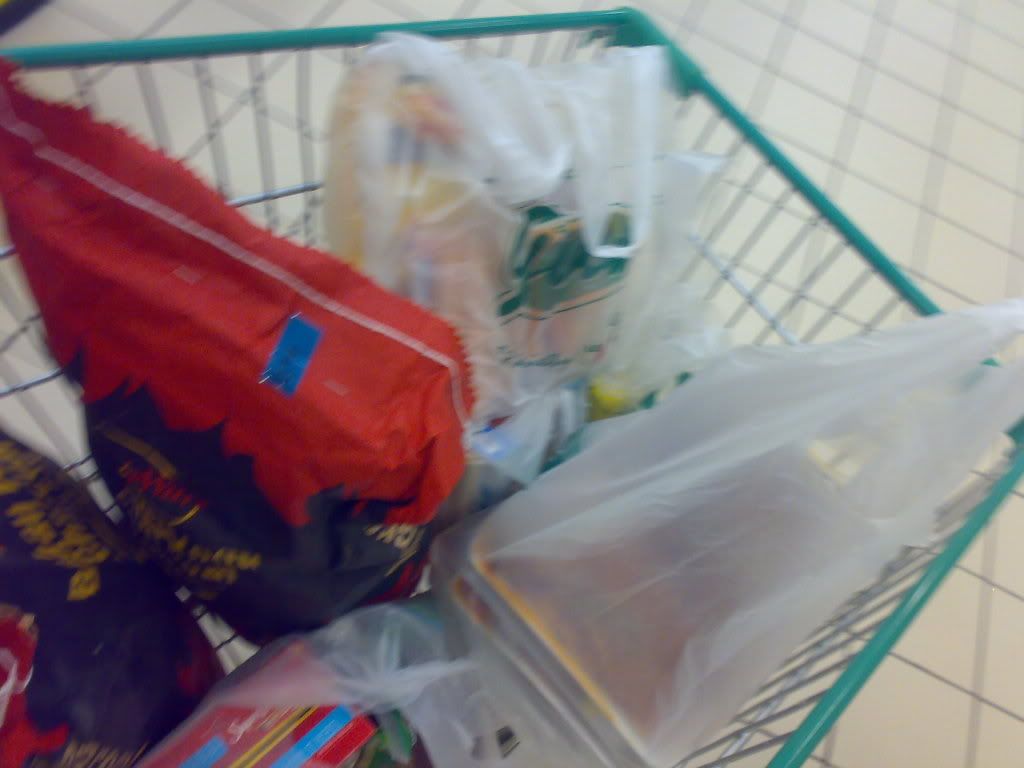 At the end of the purchase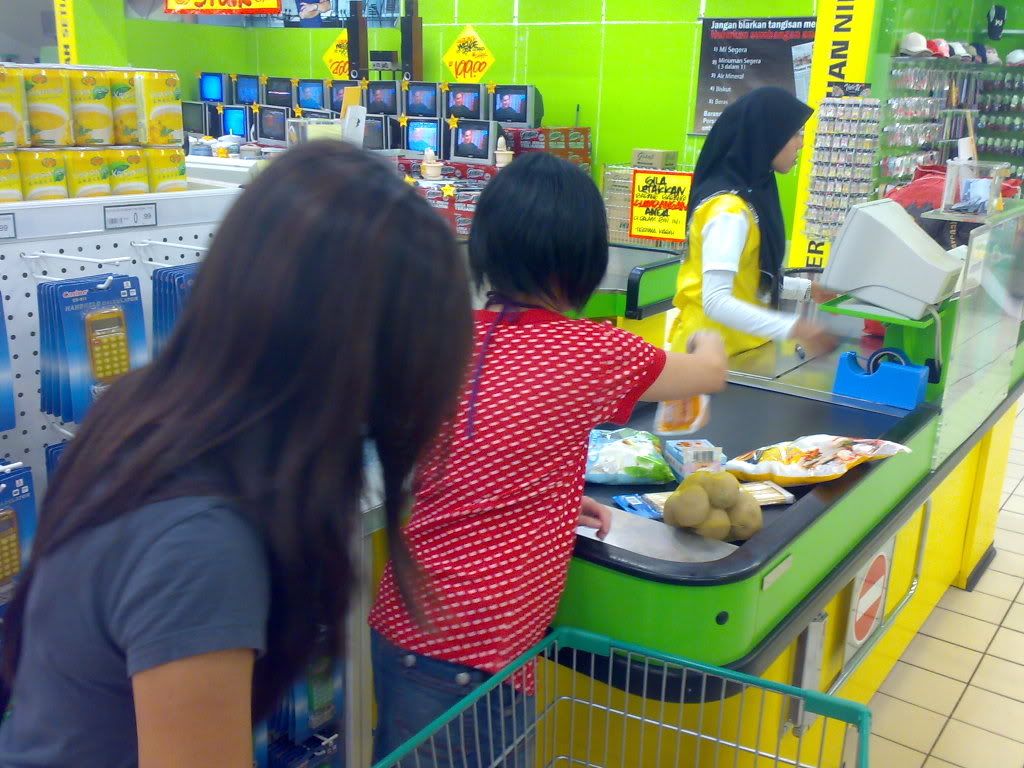 Lining up to put the stuffs...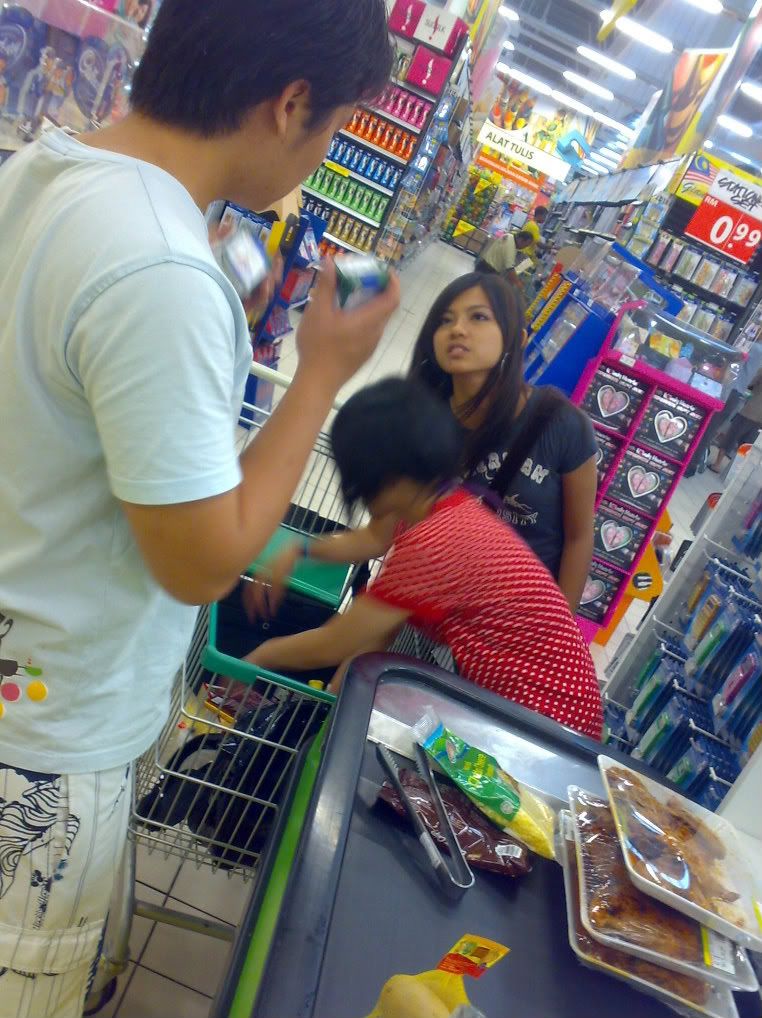 Dixon making sure it is what we want.
Yen looking at him...
"YA LA! It's what we want! RAWR!"

Okay. She didn't say that.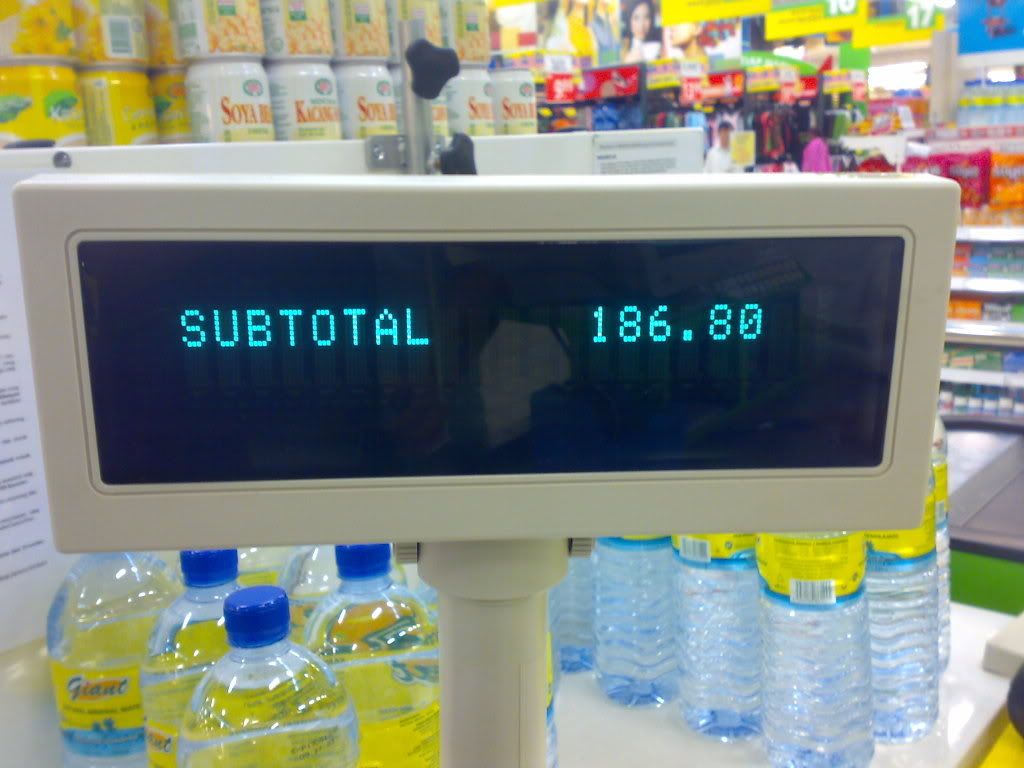 And...
That's how much we spent on just the purchasing
of the stuffs just for this boy boy.
We haven't even added the petrol money for
planning (to and fro - since Dixon drove an auto car)
going to Giant for purchasing
(two cars, one manual one auto)
going back from Giant (same as above)
going to fetch Paul from his house (auto car)
going to OUG
detouring from OUG
going to Puchong,
going to the field for BBQ afterwards
and sending Paul Leong back.
>.>
That's A LOT of money wei...
<.<>

So much for the purchasing craze. The plan was on, and everything we planned went smoothly. (Dixon, you're not the only mastermind, okay? Don't you dare take credit.)
I brought Paul to Dixon's dark house and had to push him into the dark kitchen (p/s: do you know that Paul admitted he was a bit scared in the dark house? XD)
Once the boy is in the kitchen, we started singing the traditional birthday song. Dixon appeared from the toilet, my sister Hannah appeared from the corner of the kitchen, while Yen and Sasa appeared from 2nd floor with the cake.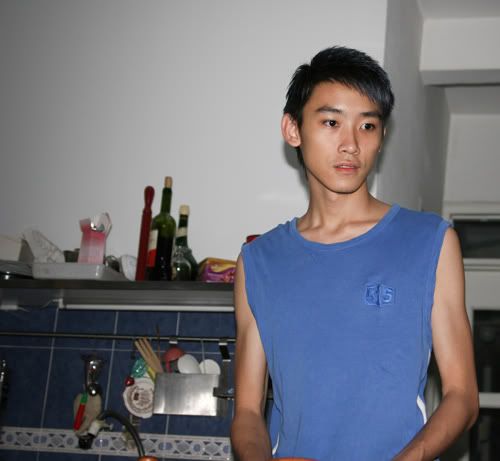 And Paul had this expression.
Stunned and Shocked.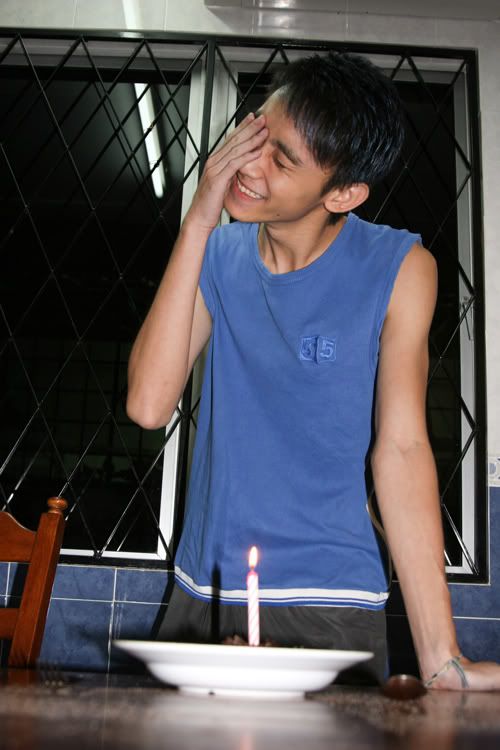 However, before we let him even cut the cake,
we had him do the dare.
Remember he dared Yen Yen to eat 19 scoops
of watermelon in college on her birthday?
This time, he had to eat 18 pieces of cut bananas
with wasabi that was expired for 4-years.

"OMG. WHAT ON EARTH? HAIYO. YOU PEOPLE."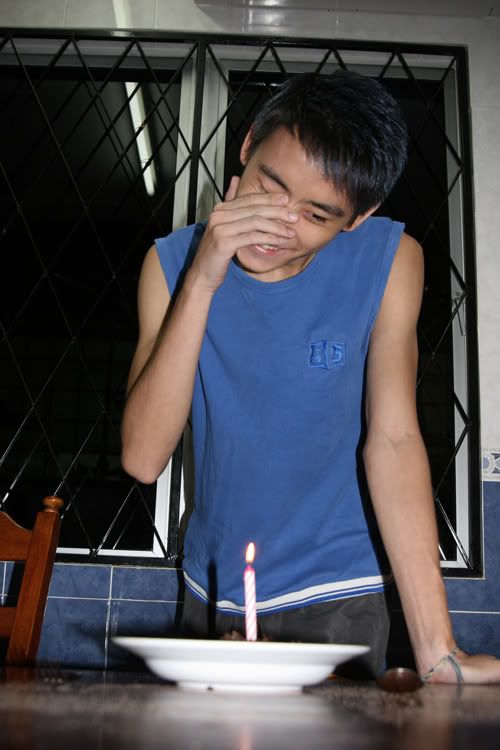 "Seriously must eat meh? Don't laaa..."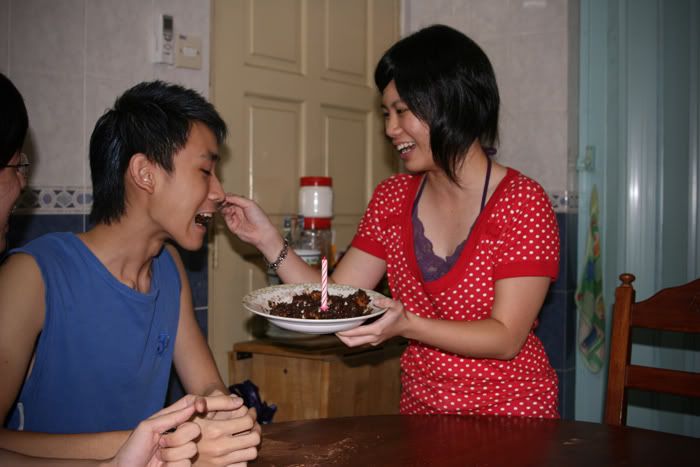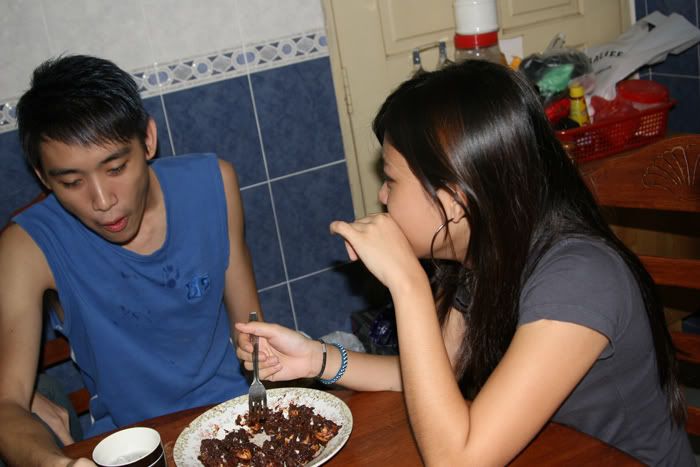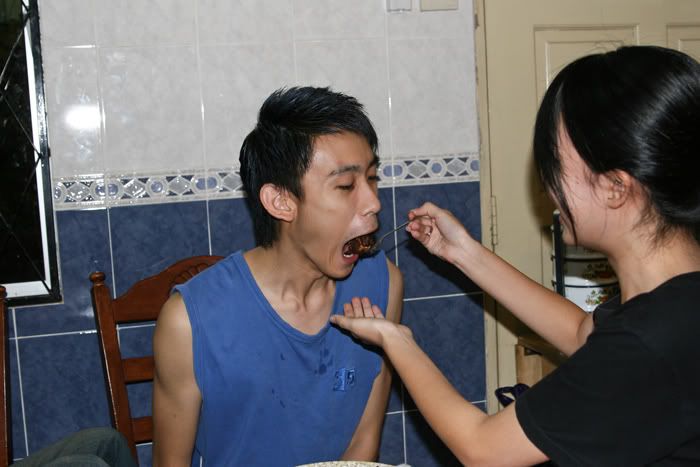 My sister feeding him....

And every time he eats a piece, this happens...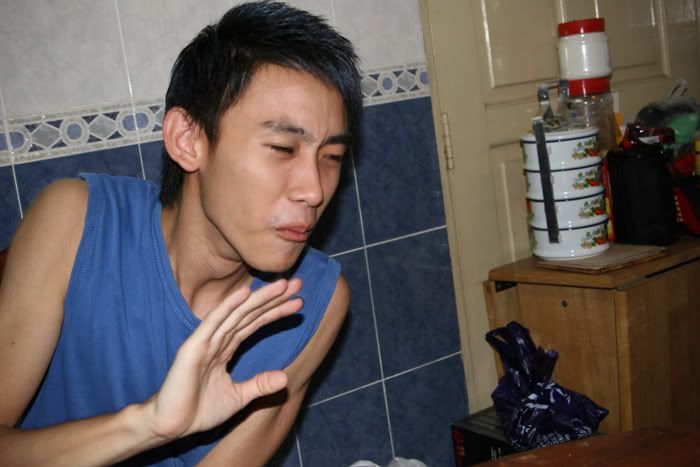 "OMG. What on earth is inside?!?!"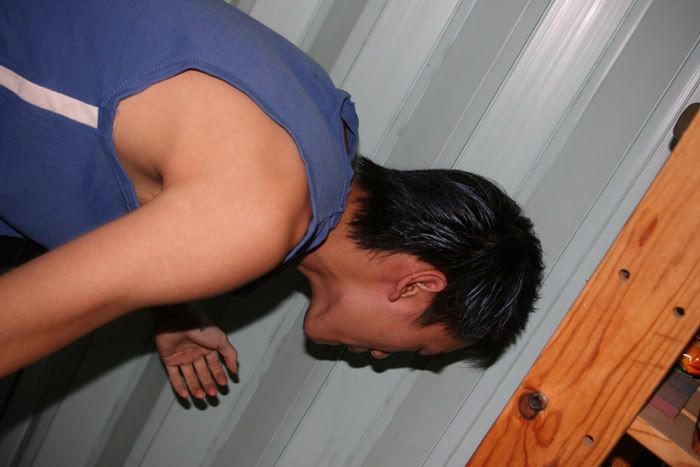 Runs frantically to dustbin to spit it out.
Shaks. Wasted our bananas. >.<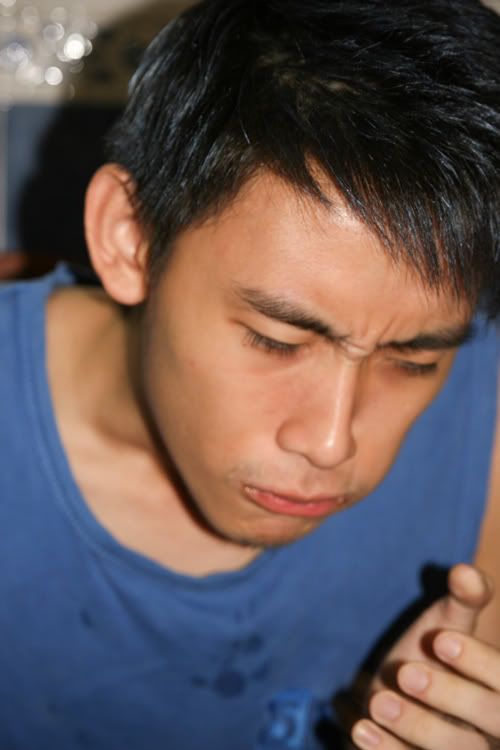 Why got wasabi one?!
I don't eat wasabi!
I mean, I've never eaten wasabi. >.<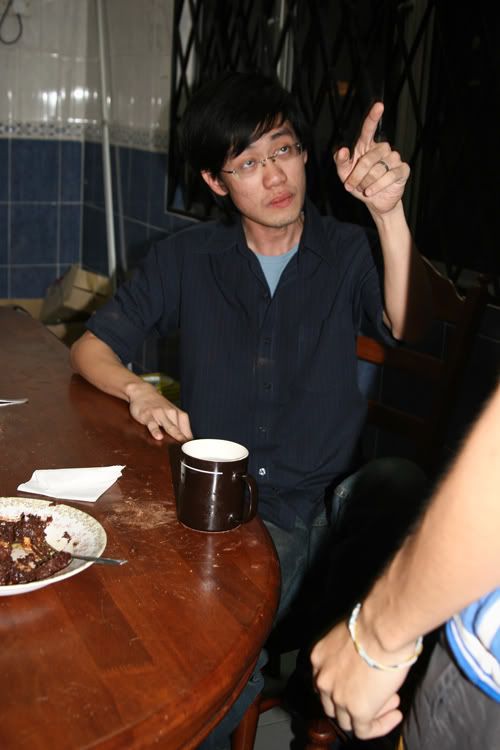 So I had to reprimand him with

the

finger.
"Dei. No matter what, you have to eat
18 bananas. Or else..."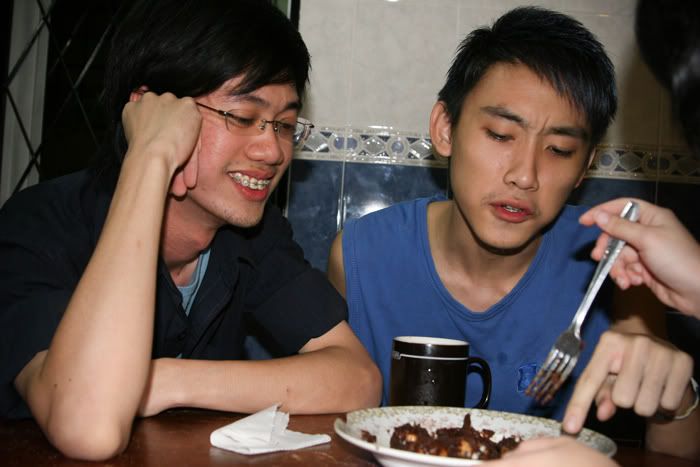 So he had to choose and finish them.
Muahahahaa.
See my happy face.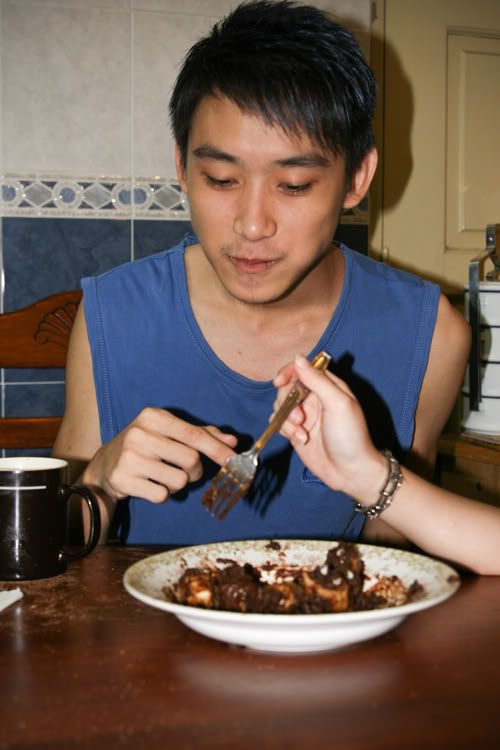 Okay, he was trying

real

hard to look on
the bright side.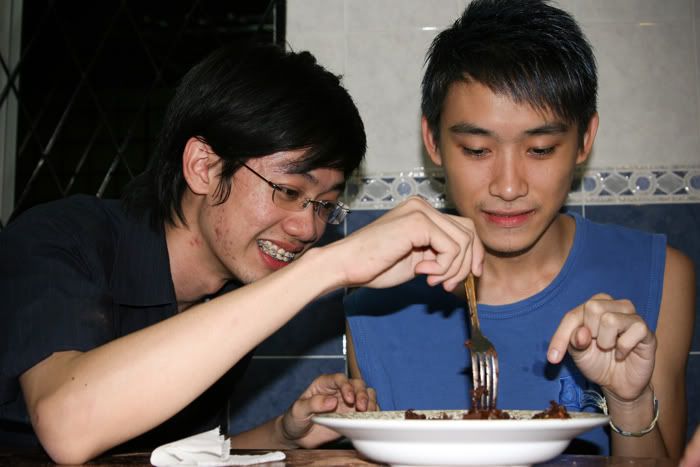 Taking another chance.
But I knew he had chosen the one one
since not all of them has wasabi.
Only a selected few had mayonnaise.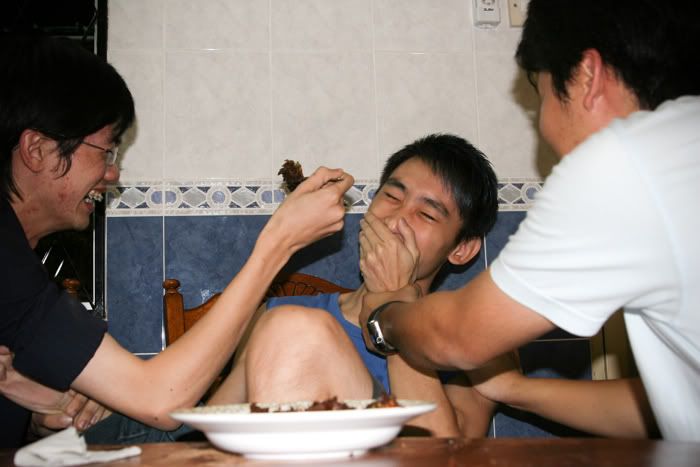 Paul struggling frantically.
But we have Jon Chu and Dixon to force it
into his mouth.
I feel so evil.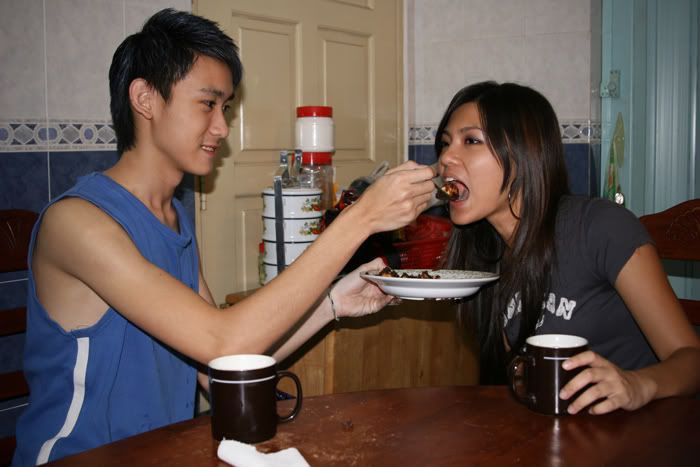 Finally, Yen had a great deal of sympathy on
Paul and decided to give him a chance for
revenge (talk about revenge of the birthday boy).
Should he be able to choose a banana with mayonnaise,
he gets to select another banana with wasabi for somebody
else to eat. And I was the first to kena (Too bad
no picture of me) since I was the one laughing evilly
throughout the entire process of him puking.
XD
And Yen was the second to get it.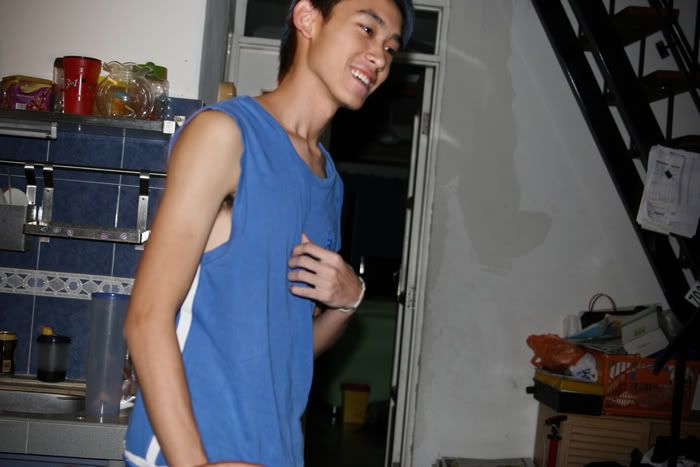 This boy relieved to know that entire process of
antagonizing and agonizing him is over once
all of the bananas are gone from the plate.

After this, we had everybody sit around the oval table to hear Paul read the sincere letter (to view the letter, click on
Paul Leong Prank Letter
). For every wrong word he read wrongly, he would receive a slap on his thigh. (Actually, the idea was to have EVERYBODY hit him. But due to laziness and mercy, I the evil fella was the only one hitting him. XD)
At the end of the letter-reading, his entire right thigh was red. XD
Here is the last part when he read the letter:
The fun didn't just stop there. We went to a nearby field/playground to have BBQ since we decided that mere agonizing Paul isn't doing any justice to the birthday boy. We needed some fun.
You wouldn't see any of my piggish face because I was the poor photographer. XD
I have to admit. When you mix with 4 professionals-at-college-level photographers, you tend to pick up what they like.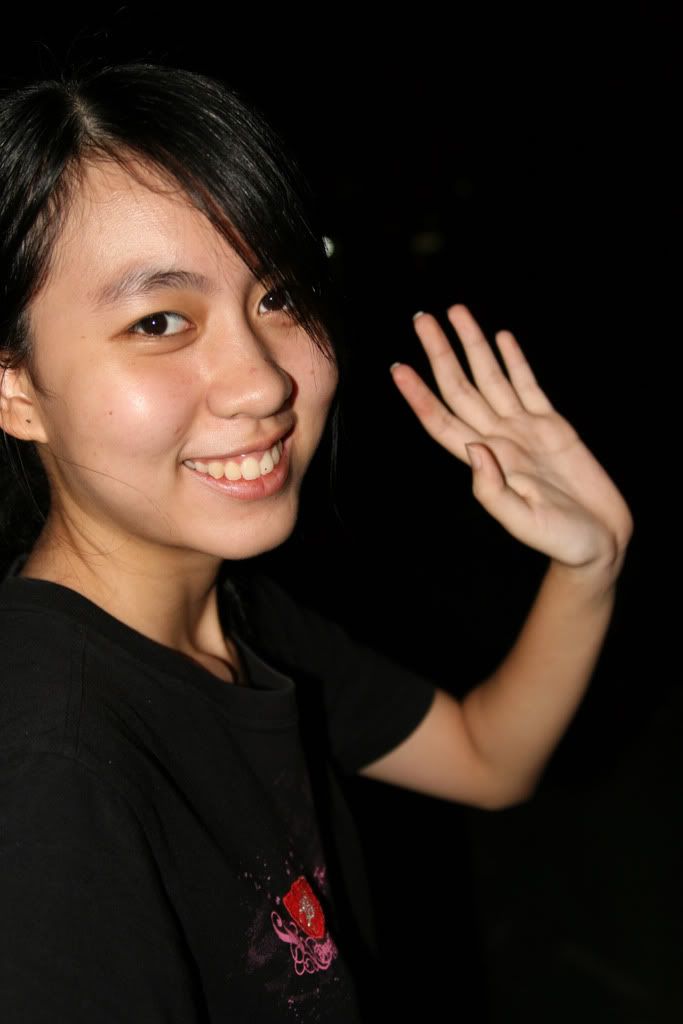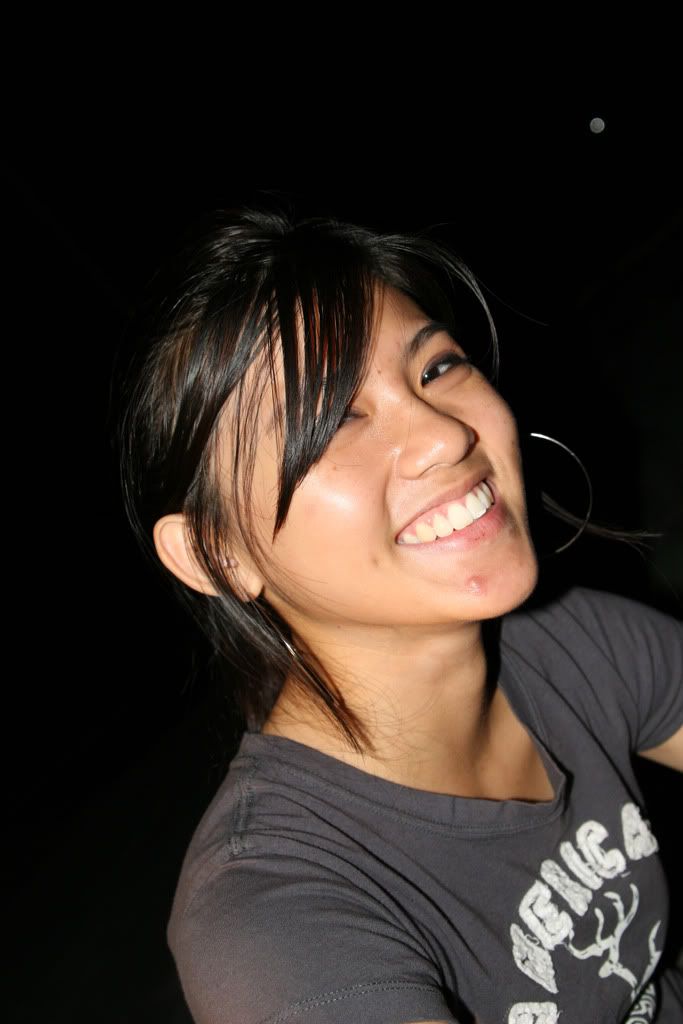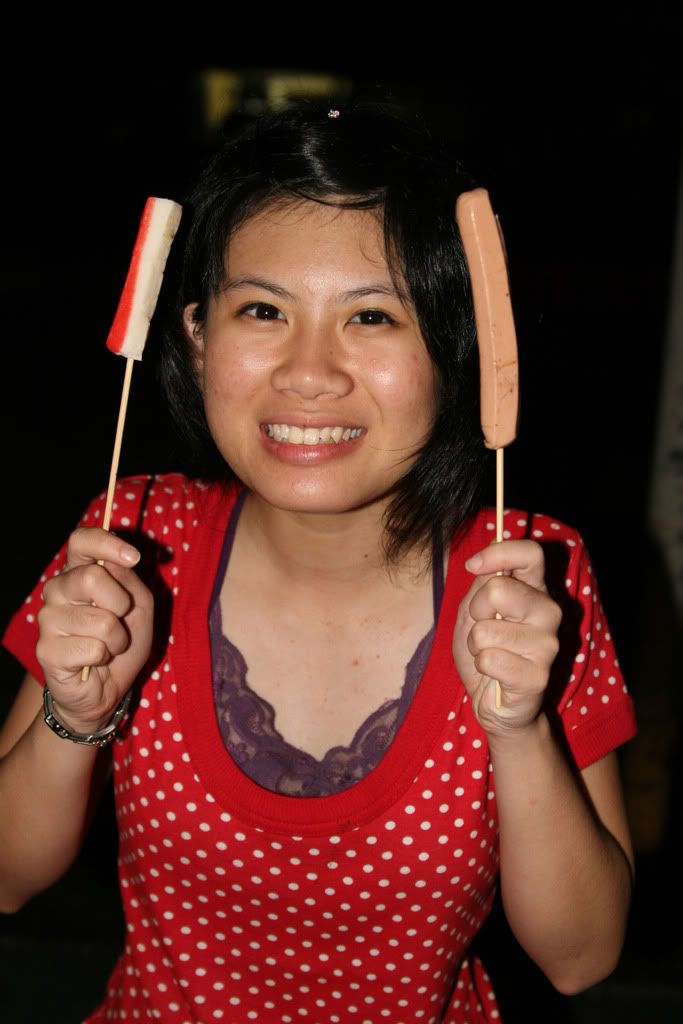 Melissa trying to show that a crabstick
is shorter than a sausage.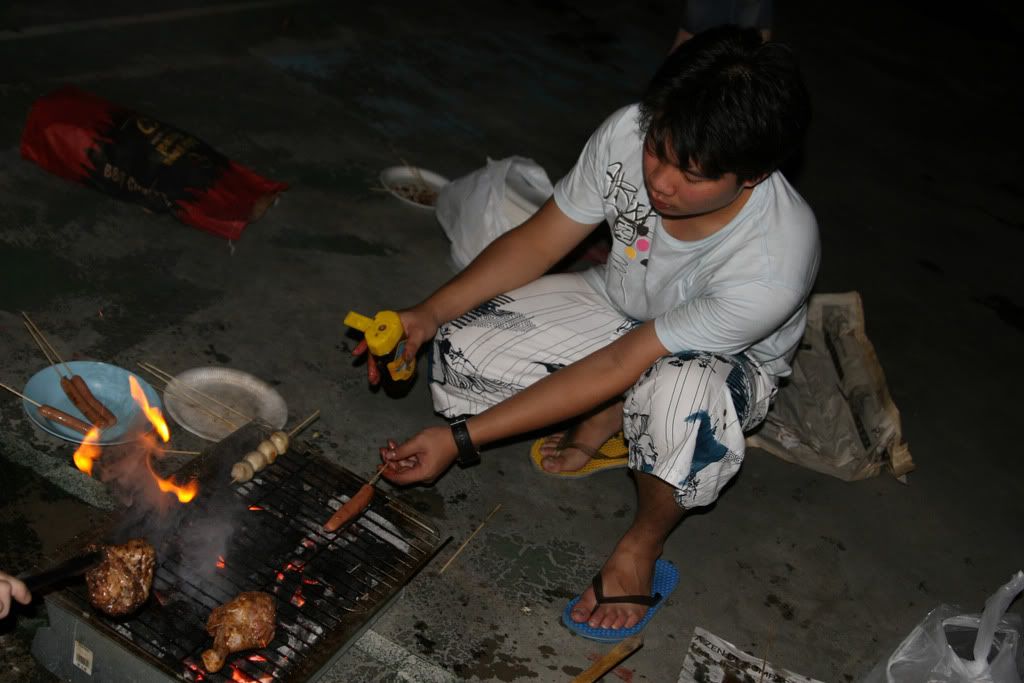 Dixon adding honey.
His favorite phrase, "The more the merrier."
Meaning, the more honey, the better it is.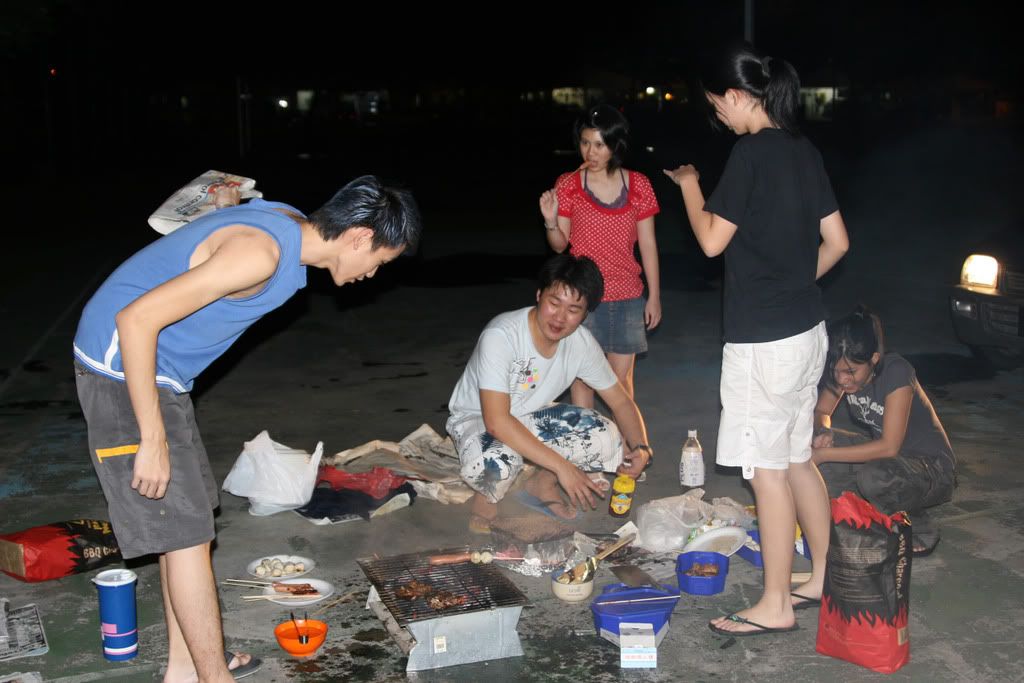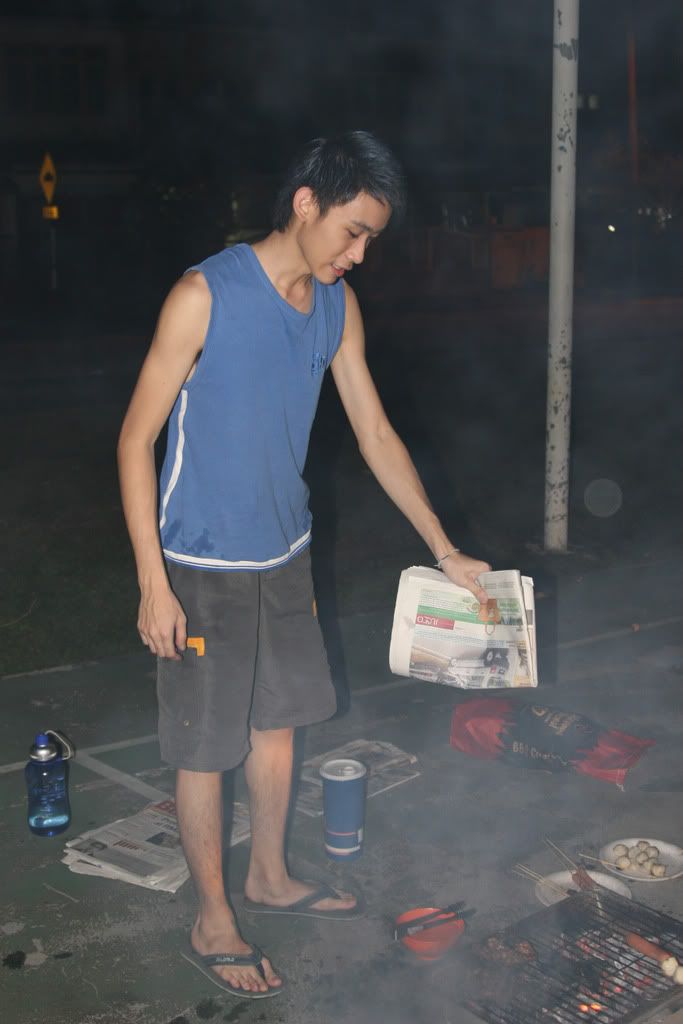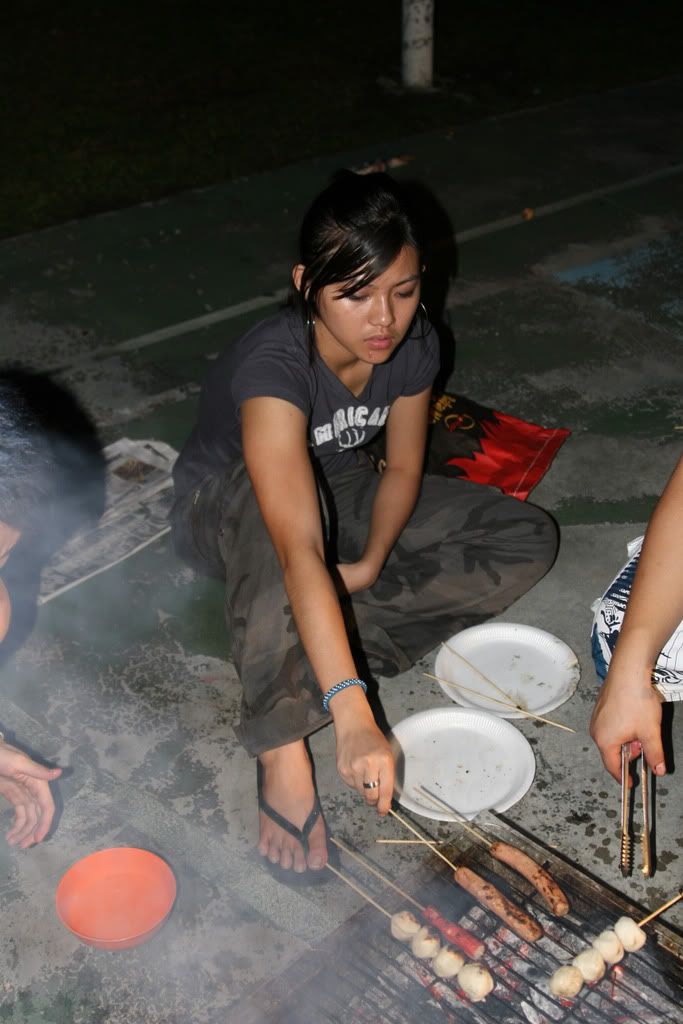 Yen happily BBQ-ing the stuffs.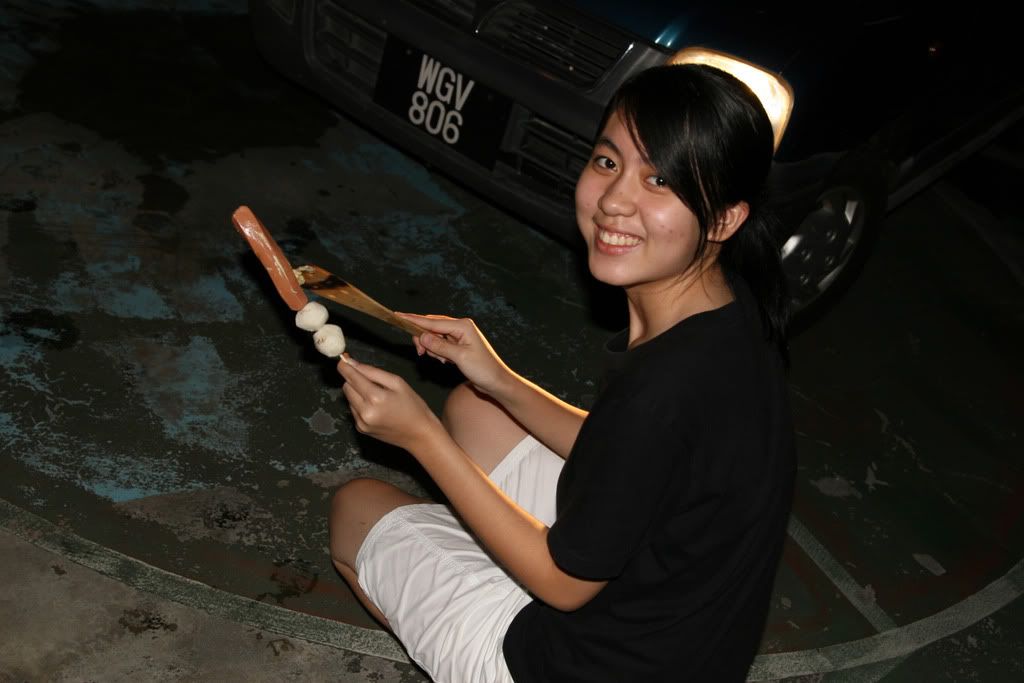 Hannah applying butter near a car because
the lights of the car are on.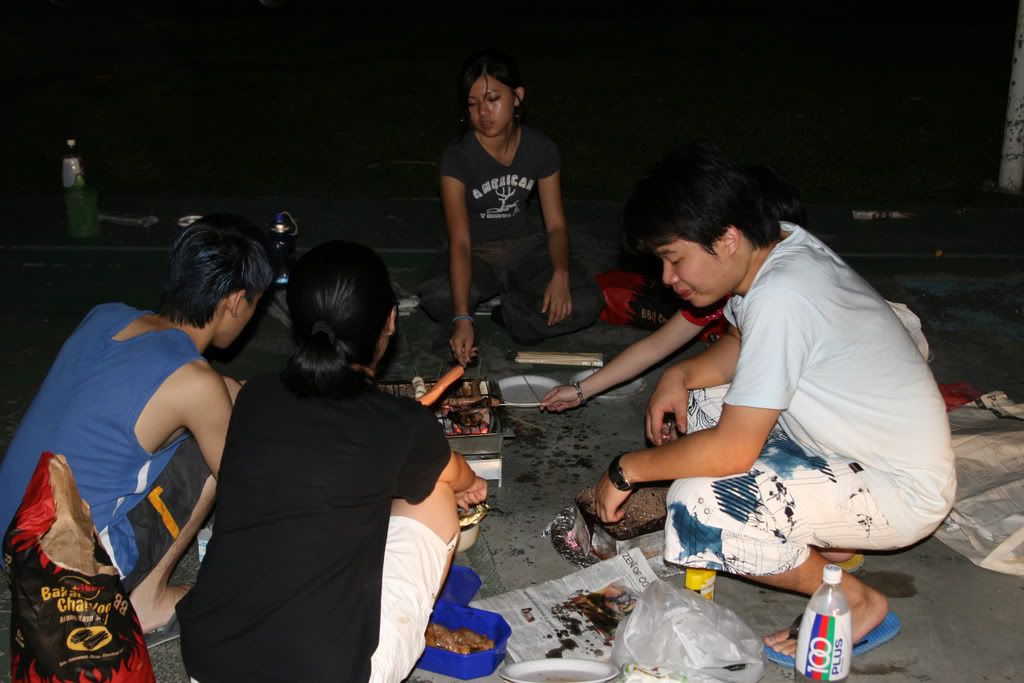 We sure did have some fun time. =)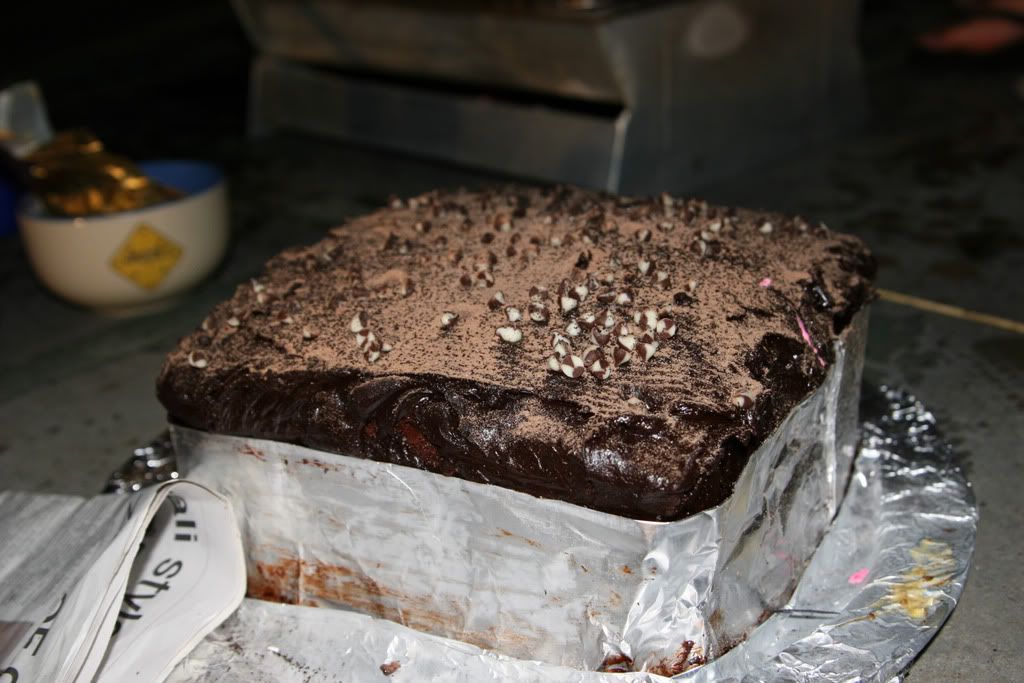 That's about it; our simple celebration for Paul.
Although this may be VERY belated, I'd just like to wish you (Paul) Happy Birthday.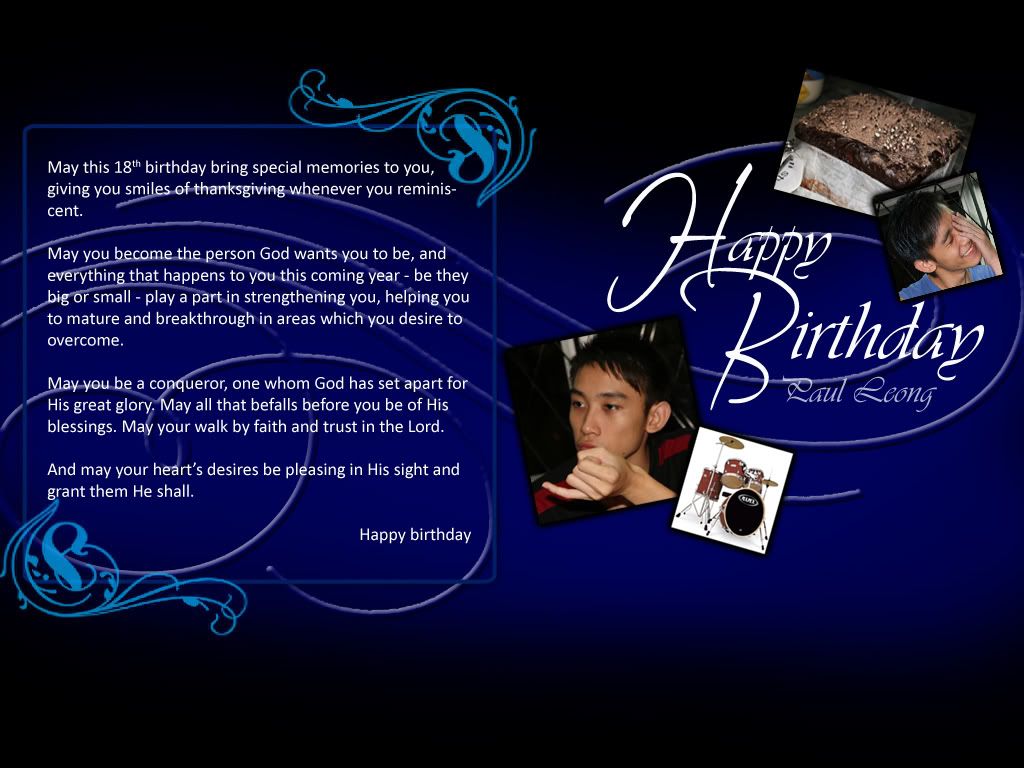 Click for larger view
Happy (belated) birthday. =)