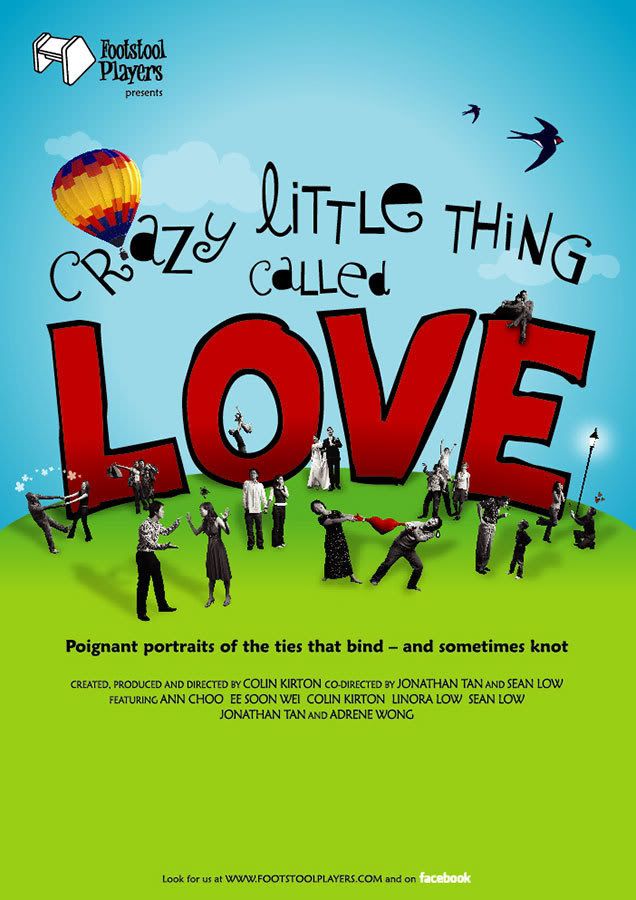 Crazy Little Thing Called Love
Dates:
6 Nov - 16 Nov 2008
8.30pm (Thursday and Saturday)
3.00pm (Saturday and Sunday)
[No show on Monday to Wednesday]
RM 30 (adults)
RM 20 (students, senior citizens, disabled)
-------------------------------------
The old song says that "love is a many- splendoured thing", but reality tells us that "love" can be bittersweet.
For its 2008/2009 season, Footstool Players is proud to present Crazy Little Thing Called Love: poignant portraits of the ties that bind – and sometimes knot – in a collection of sketches pertaining to the themes of love, courtship, marriage and family relationships.
The play features a mix of comedy and drama, but all thought-provoking in some way in highlighting issues pertaining to relationships. There's innocence, idealism, joy, humour, reassurance, hope, regret, heartbreak, sorrow, and more – everything that comes with that "crazy little thing called love"!
You'll laugh, you'll weep. But most importantly, you'll also think – and perhaps also discover.
The sketches are:
ACT 1
BE REAL - Steven Hicks & Jerry Cohagan
A young man prepares a video about himself for a dating service, amidst pressure to portray himself as someone he is not.
WHATEVER - Paul & Nicole Johnson
Two teens too eager to please the other can't seem to decide on what to do on their date.
LOST IN TRANSMISSION - Colin Kirton, adapted from Dave Barry
A humorous look at the drastically different ways men and women think.
I LOVE YOU MORE - Jan Peterson Ewen
A couple in love each try to out-do one another in expressing their love for each other.
THE LEDGER PEOPLE - Paul & Nicole Johnson
A married couple furiously keep score on each other, jotting down each other's merits and demerits in their ledgers.
WORD PICTURE - Charlie Jones
A couple discover how their marriage evolved from being a "gazebo", where love once freely blew through, to a suffocating "prison".
A SORRY EXCUSE - Martha Bolton
Why is it so difficult to say sorry?
ACT 2
IMPASSE - The Jeremiah People
A single mother struggles to let go of her growing-up daughter.
I AM MY FATHER'S SON - Colin Kirton & Jonah Sng
A young man reflects on broken bridges between him and his father who is dying in hospital.
A LATE LUNCH - Lawrence & Annie Enscoe
A woman meets up for lunch with her emotionally distant father who left her when she was a girl.
SAYING GOODBYE - Karen Llewellyn
A grown-up daughter reflects on the various times she has said goodbye to her now deceased father, and how those memories are intrinsic to who she is, and always will be.
BILLY - Charlie & Ruth Jones
A little boy who was adopted discovers that his adoptive father's unconditional love is simply that – unconditional.
THE GREATEST OF THESE - Paul & Nicole Johnson
A choral reading of an excerpt of "The Love Chapter" on the nature of true love, augmented with some practical "applications".
Created, produced and directed by Colin Kirton, co-directed by Jonathan Tan and Sean Low, and performed by Ann Choo, Ee Soon Wei, Colin Kirton, Linora Low, Sean Low, Jonathan Tan and Adrene Wong.
SUITABILITY
Crazy Little Thing Called Love is suitable for all audiences, regardless of religious background or affiliation. Age-wise, the play would be appreciated by older children through to seniors.
LENGTH
110 minutes
----------------------------------------------------------------------------------------------
Paul will definitely agree to this: the play is done well. 
Overall, I must say, it was not bad although there were some areas which could have been done better. 
If you have the time, please do catch it! =) 
p/s: Not in the mood to write a review. Heehee