I don't mind having only a few friends, but I don't mind having tons of friends.
But whatever the number be, and whoever is out there to say that I am some lonely poor soul without many friends, or whoever may be out there envying the number of friends I have, I am thankful for the friends I have.
I select my friends; I don't just befriend everybody and anybody.
No, I don't judge friends by how they look (I am perhaps the most uncharming creature around them). I don't select friends by how clever they are (I am perhaps the dumbest person when in their presence).
But I do call my friends friends because of their characters and acceptance.
Someone who takes the effort to know you, your pasts, the facts of your life that made you who you are today, the pasts that both haunt and delight you - this someone is worth calling a friend, and not someone who plays truth or dare with you and ask you random questions because the intention for that is fun and not because he/she wants to know you.
Someone who tells you when you are right and wrong, someone who tells you straight to the face yet gently, someone who explains and not preaches, someone who loves and cares and not take you for granted - that is a friend.
My dear friends, thank you for being a friend.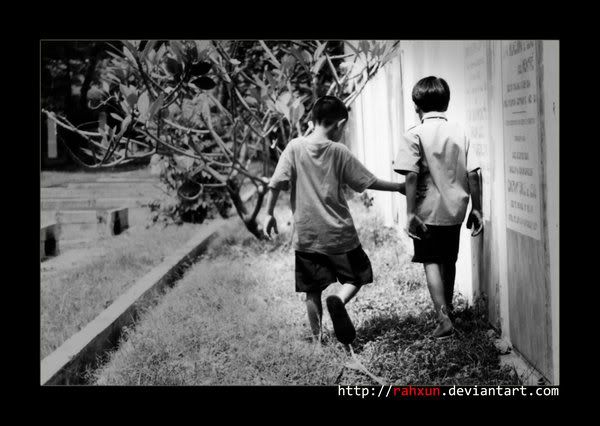 Here are some quotes of friendship:
"To the world you may be just one person, but to one person you may be the world." - Brandi Snyder

"Even though we've changed and we're all finding our own place in the world, we all know that when the tears fall or the smile spreads across our face, we'll come to each other because no matter where this crazy world takes us, nothing will ever change so much to the point where we're not all still friends." - Unknown

"If you live to be 100, I hope I live to be 100 minus 1 day, so I never have to live without you." - Winnie the Pooh

"A friend is someone who understands your past, believes in your future, and accepts you just the way you are." - Unknown

"Truly great friends are hard to find, difficult to leave, and impossible to forget." - Unknown

"Love is when two people know everything about each other and are still friends." - Unknown

"Don't walk in front of me; I may not follow. Don't walk behind me; I may not lead. Just walk beside me and be my friend." - Albert Camus

"A friend is someone who knows the song in your heart and can sing it back to you when you have forgotten the words." - Unknown

"Much of the vitality in a friendship lies in the honoring of differences, not simply in the enjoyment of similarities." - Unknown

"One measure of friendship consists not in the number of things friends can discuss, but in the number of things they need no longer mention." - Clifton Fadiman

"True friendship comes when the silence between two people is comfortable." - David Tyson Gentry

"The friend who can be silent with us in a moment of despair or confusion, who can stay with us in an hour of grief and bereavement, who can tolerate not knowing... not healing, not curing... that is a friend who cares." - Henri Nouwen

"True friendship isn't about being there when it's convenient; it's about being there when it's not."

"The difference between friendship and love is how much you can hurt each other" - Ashleigh Brilliant

"We cannot tell the exact moment a friendship is formed; as in filling a vessel drop by drop, there is at last a drop which makes it run over; so in a series of kindnesses, there is at last one that makes the heart run over."

"Friends are like bras: close to your heart and there for support."

"True friendship is seen through the heart, not through the eyes."
And to some of you special ones,
To Crystal Cha, a respected friend, ex-editor the Hailer Magazine of Life College, Head of Department of One-Eighty ministry, definitely a desired coursework partner,
"This is my wish for you: Comfort on difficult days, smiles when sadness intrudes, rainbows to follow the clouds, laughter to kiss your lips, sunsets to warm your heart, hugs when spirits sag, beauty for your eyes to see, friendships to brighten your being, faith so that you can believe, confidence for when you doubt, courage to know yourself, patience to accept the truth, Love to complete your life."

"Friendship is born at that moment when one person says to another, 'What! You too? I thought I was the only one" - C.S. Lewis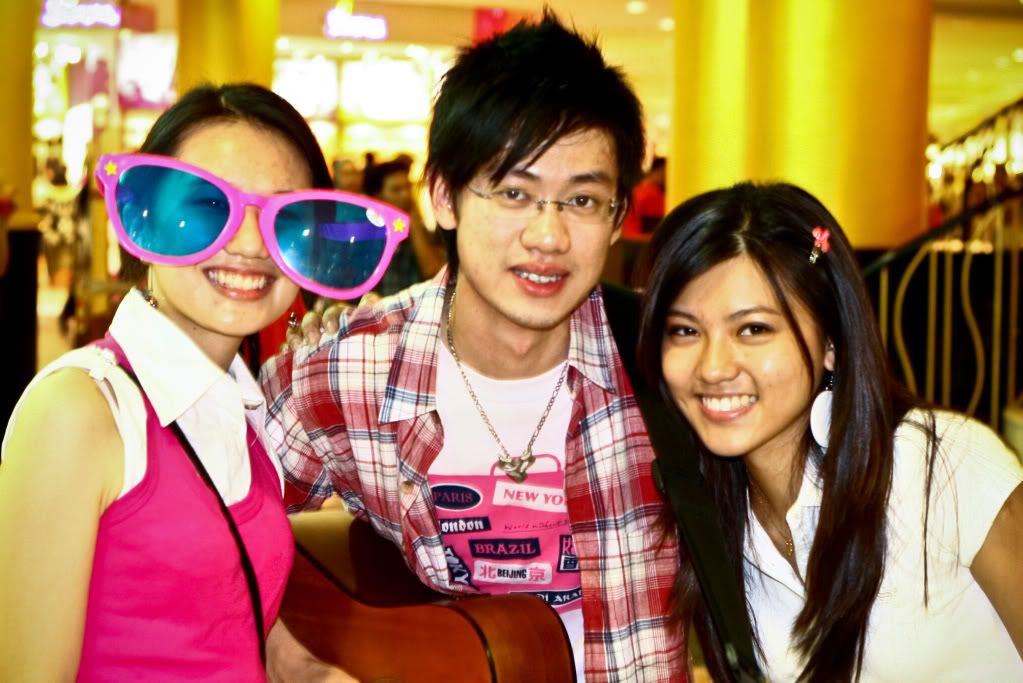 To Phoebe Kim,
Tokoh Pelajar
/Star Student, a friend with interesting character and definitely brains to process whatever shit I throw at her, an excellent musician and critique, an ex- co-singer who can't sing the word "thought" (even though I sometimes miss the word "breath")
"True friends stab you in the front." - Oscar Wilde

"Keep away from those who try to belittle your ambitions. Small people always do that, but the really great make you believe that you too can become great." - Mark Twain
Being a Tokoh Pelajar is really tiring, maybe you can keep away from yew-noe-hu. Makes being a star student even tirer. Not worth the time, anyway. I give you the permission to poke for laughter at me.
To Pang Su Yen, the politest girl I've ever known, the first girl in College I see loving God so much, for which I respect, one of the many creative girls in college, the only girl who can scrapbook digitally and manually, the
ma
with kittens, the only girl I've seen made more than 20 guys drool at the same time (and I mean literally),
"It is by chance that we met, by choice that we became friends."

"What is uttered from the heart alone, Will win the hearts of others to your own." - Johann Wolfgang von Goethe
Yes, Yen. You rock and I pebble. How can I compare to you. If you are gold, I must be tar stone. If you are Beauty, I must be Beast's best friend.
To Dixon Liu, Ramly fan and computer geek, the first friend willing to reformat my PC for me (the only one, anyway, since my computer seldom needs "brainwashing"), the friend who brought me to Marche and said sorry because it was slightly expensive (but I love the food anyway and you're going to bring me there again), the one crazy enough to agree to go Dim Sum at Jalan Ipoh at 6am during exam season,
"Promise me you'll always remember: You're braver than you believe, and stronger than you seem, and smarter than you think." - A. A. Milne
To Joshua Anthony Hajok, my *ahem* successor,
"Love is friendship that has caught fire. It is quiet understanding, mutual confidence, sharing and forgiving. It is loyalty through good and bad times. It settles for less than perfection and makes allowances for human weaknesses." - Ann Landers

"Sometimes being a friend means mastering the art of timing. There is a time for silence. A time to let go and allow people to hurl themselves into their own destiny. And a time to prepare to pick up the pieces when it's all over." - Gloria Naylor
May you succeed in whatever you are doing, and may Prom be possible.
To Joshua Lim Shaun Wu, my co-assistant editor, my shopping friend, one of my metrosexual friend, my gossipboy, my rival/competitor in coursework,
"A true friend is someone who thinks that you are a good egg even though he knows that you are slightly cracked" - Bernard Meltzer
Thanks for being accepting in times of weakness and under-performance. Do remember to blog and send back some cheap thin clothes you can find for me. Also, please do inform me when you are leaving for US.
To Levi, Pastor Kid and the first friend I know before entering Life College, very creative musician and guitarist (yet to hear you play serious damaging drums), series downloader and sharer,
"Life is partly what we make it, and partly what it is made by the friends we choose." - Tennessee Williams
To Jarod Kam, friend I met through blog surfing, friend whom I never met but came to
Entangled, the Musical
for support, faithful Solitude blog reader and commenter (I appreciate every comment you publish),
"Friendship is a treasured gift, and every time I talk with you I feel as if I'm getting richer and richer" - Unknown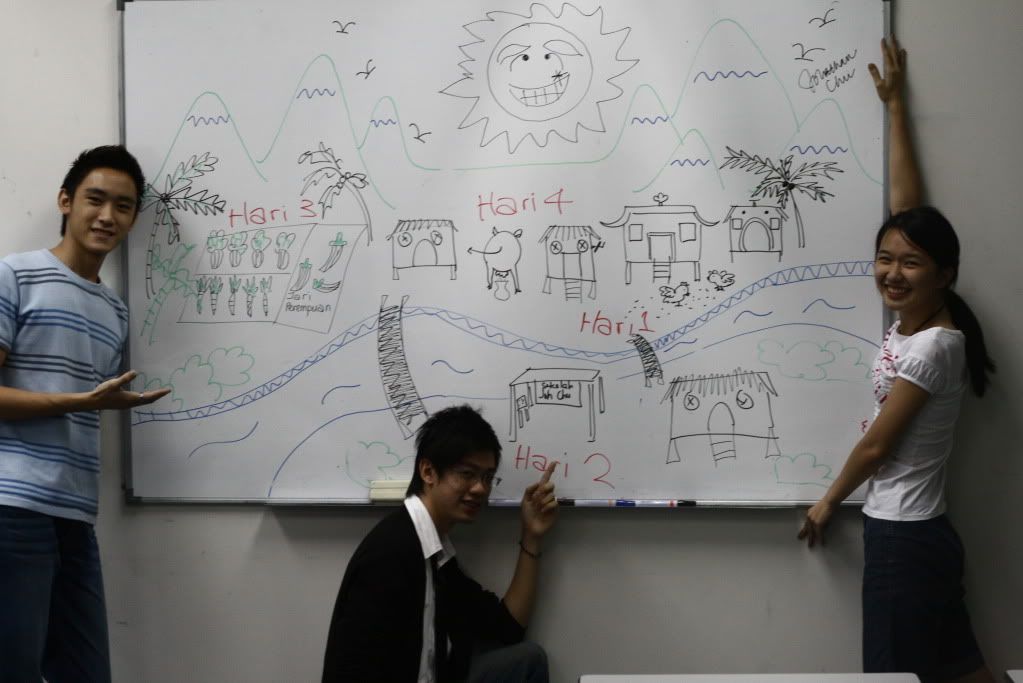 And finally to everybody,
"There are three types of friends: those like food, without which you can't live; those like medicine, which you need occasionally; and those like an illness, which you never want."
p/s: If you don't see any pictures of you, it means we need to take more pictures. =)