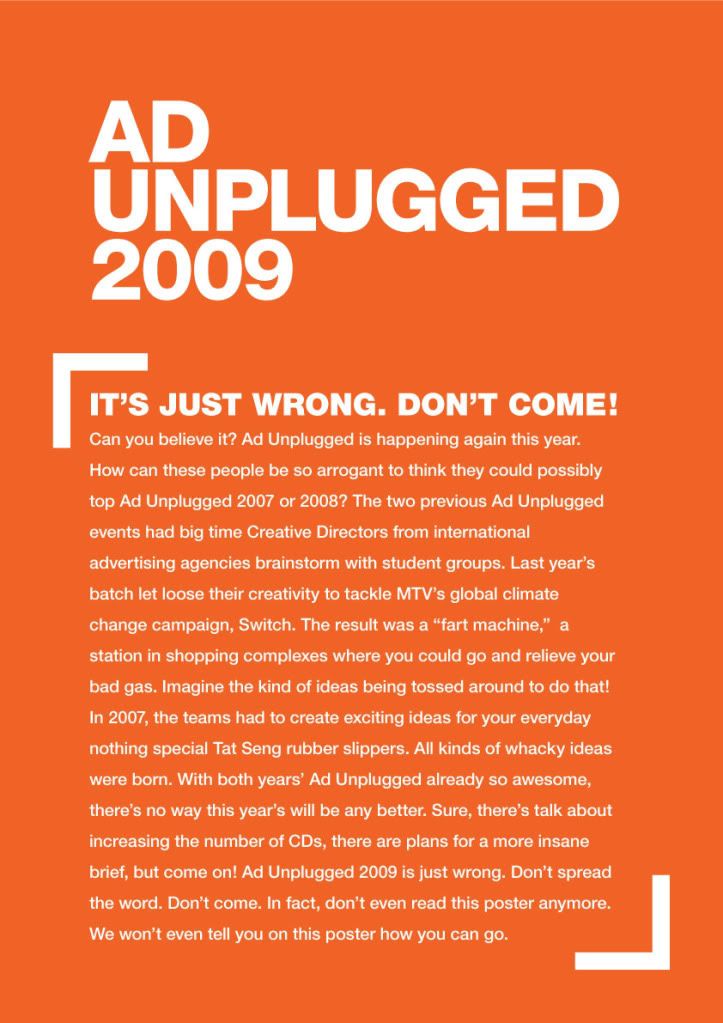 Click image for larger view.
Horribly interesting, isn't it?
Participants got to brainstorm and work on advertising ideas with some of the main influencers of the advertising creative industry, and I was fortunate enough to work with Jeff Orr, Executive Creative Director, TBWA-ISC\Malaysia.
Here's a simple introduction of Jeff Orr:
Jeff Orr founded Malaysia's Creative Council that created Malaysia's first advertising awards, The Kancil. He also has extensive experience in the industry as Creative Director and Executive Creative Director at DDB in Melbourne, and BBDO in Hong Kong and Malaysia. He served as Regional Creative Director at Grey Worldwide and was responsible for Grey's global brands in countries including Japan, Australia, Philippines and India. He is currently the Group Executive Creative Director at TBWA\ISC Malaysia.

What made
Ad Unplugged
so interesting was the chance to work with creative directors who are in the advertising industry, who have all the experience, and who are willing to share them. Many of us, students especially, will not even have the chance to speak with these people, let alone brainstorm advertising campaigns with them.
Another reason why
Ad Unplugged
was so beneficial was the fact that the advices and feedback you get from these creative directors will be firsthand. You won't be getting them from a writeup in some random magazine or hear them from some guy who happened to talk to these directors; you'll hear it for yourself, see the expressions of the directors and get tips from them so that you could improve yourself.
So what who were the creative directors at
Ad Unplugged
, you ask? They are:
Jeff Orr
Executive Creative Director, TBWA-ISC\Malaysia

Szu Lee
Executive Creative Director, McCann-Erickson

Tan Yew Leong
Executive Creative Director, Leo Burnett

Steve Hough
Executive Creative Director, Y & R

Sa'ad Hussein
Managing Director, Executive Creative Director, Creative Juice\Sil

Andy Soong
Executive Creative Director, Publicis

Click here for more information about these amazing people!

What did I learn, you ask?
I learned how to effectively come up with an advertising idea before an advertising campaign.
I learned the importance on selecting specific mindsets and attitudes to change.
I learned how to work as a team (sometimes I tend to think I work better individually, but working individually isn't possible when working in the real world).
I understood a fraction of how crazy the advertising world was.
I understood what creative directors are looking for.
I learned that the experience I have in college, working on a magazine (even if everything is done from scratch), doing my internship in a small firm -- all these don't count.
I learned that a few years doing freelance does not mean that I have experience. Far from it. Because I've yet to see the real thing.
I learned that having a degree is nothing. It's just a piece of paper certifying that I've learned theories and scrape through my assignments.
I learned that I have what it takes to start from small, but not enough to be recognized. Hence, the need to come up with my portfolio, because while working on it, I get to 'drill' myself to be better.
I learned some strengths and weaknesses of my group members.
I learned that I need to start realizing that what I have learned in college is nothing because my knowledge isn't even enough for me to come up with good advertisements.
I realized that my experience gotten from internship was invaluable, especially since I finally learned how to segregate Public Relations from Advertising, and to think of campaigns separately.
And the list continues...
Need I stress the benefits of
Ad Unplugged
again? I suppose not. Oh, and another thing you should check out:
Wake Up Lah
I might just post up pictures of the event soon. Or I may not. I've yet to decide. But whatever it is, whenever you come across events like this -- don't stop to think if you should go for them or not. Just do it.
And last but not least, for those who already have their portfolios ready, don't stop working on them. I just found out from Jeff Orr that there was a
Portfolio Night
this year. Although we may have missed it, there's no reason to stop compiling our portfolios and get ready for next year! So yes, if you don't have a portfolio, start now!