Yesterday was my graduation - a momentous occasion, an event I will hold close to my heart. I'd like to share my valedictorian speech with you. As much as it has touched me while preparing it and those who were at the ceremony, I hope it will encourage you too. =)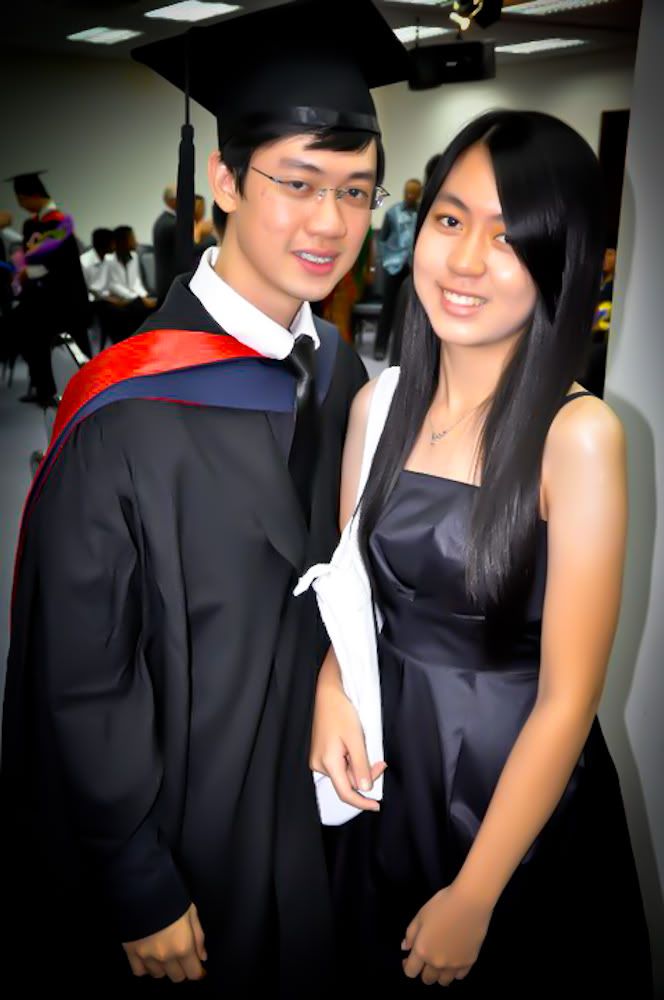 -----
Dear Dr. BC Tan, Chairman Academic Advisory Board; Mr. Raymond Mooi, President and Founder of Life College; Ms Chong Weng Lian, Chief Executive and Principal of Life College; Dr Jerry Chong, Director of Academics; Mr. Josiah Wong, Academic Dean of Schools; Ms. Gina Marini, Head of English Department; and distinguished guests, parents, teachers, graduands, staff and students of Life College, good morning.
CEO of an established advertising agency called Gan For Hire, Peter Gan (also known as the Branding Guru in Malaysia) once told me that "Life is made up of moments. There is no one moment that is similar; each is different and unique. One moment you're happy, the other you are sad, and it is all these moments, combined together, that makes life so enriching."
Moments. How often we let moments slip us by unnoticed, as we travel this road called 'Life'? How often have we paused and looked at our surroundings just to soak up everything that is happening, just so that we can cherish each and every detail of it, just so that we know for sure that our lives are spent well? How often have we enjoyed silence and solitude, danced under the rain, just because we wanted to and we felt like it, without any worry that someone else would cast a judgmental look at us and say we're being childish?
Most importantly, how often have we dwelled in self-doubt and our preconceptions of what should be and what shouldn't be, when we could have defied gravity and soar?
Dan Miller in this very powerful movie 'Peaceful Warrior' said, "You make every move about the move. Not about the gold. Not about what your dad thinks about you. Not about anything. But that one moment in time."
Moments. Until and when we realize how powerful each moment can be, we will be like many people in the rat race, competing from one competition to the next, without realizing how much time we've wasted when we could've used those moments to live life to its fullest.
This moment, my honorable guests and beloved friends, this moment is the one moment we, as graduands, put on these gowns and pride in ourselves for finally finishing the race of "Diploma in Mass Communications, Business or Multimedia." This moment is the one moment we pat ourselves on the shoulder and smile to ourselves. This one moment is when we see that the end is just the starting of a fiercer, more engaging race. And once this moment is over, just like a race as the gun is fired, off we shoot into life, running like athletes, never slowing down.
So to my fellow graduates, our lives here in Life College have built a foundation for us to be champions in the society and the working world. Obstacles, like strong roaring waves will come and sweep against us, but it takes a determined strong-willed soul to withstand the struggles in life, to tell ourselves that "Impossible is impossible" and to get back up whenever these waves wash against us as we run the race of life. For this is what I've learned after months working in 95% The Advertising Academy, each moment is a moment granted by God to us to be an influence, to be a change, to do something that will amaze ourselves and others. But the choice lies in us. Whatever it be, whatever happens, remember that it is not the destination that brings happiness but the journey.
To my beloved lecturers, especially Ms Jessie, Mr. John Beh, Mr. Kenny, Ms Goh Choon Ean and Ms Kin San, your passion and your caring hearts have showed me that there is hope in the Malaysian education system. You have showed me that teaching goes beyond lecturing about facts and figures, but also showing concern from the heart. You have shown me that you will take what it takes to deliver a lesson, to make an impact, to be a difference. And in my life, you have done so. Thank you for your patience.
To the staff in Life College, especially Ms Nicole Tan Beng Im, Ms Sheah Lai Yee, and Mr Eric Lee, life in Life College would have been so different if you weren't around. Even if you do not say it, I could see your endearing dedication and love for this college and students, in your actions and in your heart. You have made Life College what it is today. Your heart, passion and love have brought and will bring this college to another height.
To Ms Chong, thank you for your patience and your heart. Hearing you say "If each of my staff can make at least one student feel comfortable, then I'm happy", hearing you say these words gave me even more reason to respect and love you as a principal of Life College. Thank you for your dedication, humility and perseverance.
Last but not least, to my fellow juniors, wherever you are, wherever you may be, wherever you may end up to be, take faith. Because this means there will be more opportunities for you to rise and be leaders, to shine and be spectacular. I urge you to seek betterment, to be a change, to stop playing safe and be spectacular instead.
Finally, Winston Churchill once said, "You ask, what is our aim? I can answer in one word. It is victory, victory at all costs, victory in spite of all terror, victory, however long and hard the road may be; for without victory, there is no survival." So, my dear graduates, to victory! To excellence! To life!
Thank you.